What is Vietnamese Tapioca Noodles?
If you like bubble tea, you'll like this. "Lod chong Singapore" is cooked with chewy tapioca noodles in refreshing iced coconut milk and coconut water flavored with pandan leaves! This is a popular dish in Thailand, similar to cendol, especially in open-air marketplaces as a sweet cool treat as you shop. It's vegan, gluten-free, and far easier to make than handmade bubble tea.
On a chilly, windy day, bánh canh giò heo is a tasty, thick Vietnamese soup that can be compared to chicken noodle soup. It is a thick and flavorful noodle that may be cooked with pork broth. You're missing out if you've never tried Vietnamese tapioca noodles. For Vietnamese noodle meals, pho reigns supreme, but cooked noodles is a close second thanks to its rich and robust flavor.
What is tapioca noodle?
Tapioca noodles from Vietnam are comparable to Korean rice cakes (garraetteok). They have a soft and chewy texture and come in various flavors. On the other hand, Korean rice cakes are made entirely with rice flour, whereas bánh canh is made with a combination of rice flour and tapioca starch. Tapioca noodles, a culinary hallmark popular among Vietnamese, combine rice and tapioca flour with boiling water. It's both time-saving and delectable. Just be aware that the plastic container may be a little oily. Tapioca noodles are always gently lubricated before being put in the bag since they like to cling together when cooked (which is part of their attraction as noodles).
How to make tapioca noodles?
Ingredients for standard recipe:
1/2 cup rice flour or wheat flour

1/2 cup tapioca flour

1/3 cup hot water

extra rice flour (for dusting)
Step-by-step procedure:
Whisk together the rice flour and tapioca flour in a large bowl.

Mix in the flour mixture immediately with boiling water.

The mixture will appear dry at first but continue to mix with the spoon until it is warm enough to touch with your hands.

Knead the dough with your hands, pressing all of the flour together. The dough needs to be firm. If the dough is crumbly, knead in a tbsp of hot water until it forms a ball.

Dust the area with rice flour before rolling out the dough and dusting with more rice flour.

Remove the rough edges of the dough before cutting them in half and half again.

Stack layers on top of one other then cut into desired noodle thickness. Dust with additional rice flour. If you're going to wait to cook it straight away, wrap it in plastic wrap.
Bubble Tea Noodles in Coconut Milk
Ingredients:
pandan leaves

coconut water

coconut milk

sugar

mung bean starch

ripe sweet jackfruit

green food colouring

tapioca starch

salt
Step-by-Step Procedure:
Cook for 5 minutes with pandan leaf and coconut water to make the syrup. Cool after adding sugar and stirring until dissolved.

Combine coconut milk and coconut water to make the coconut milk broth. Cook for 5 minutes after adding the pandan leaf and salt.

Combine the two starches and drizzle hot, colored water over them in little amounts.

Toss with a spoon in between drizzles to blend. Continue adding hot water and tossing until virtually all the water has been used.

When the dough appears uniformly soaked and clumps together, stop adding water.

Form the dough into a ball and knead it on a floured surface until smooth.

Cut into 2-3-inch strips after rolling into a 2mm sheet. Each strep should be cut into 3-4mm wide noodles.

Place in a pot of boiling water for 1-2 minutes. After being shocked in cold water, the noodles should be translucent.

Combine the syrup, coconut milk, and jackfruit in a mixing bowl.

Enjoy with plenty of ice!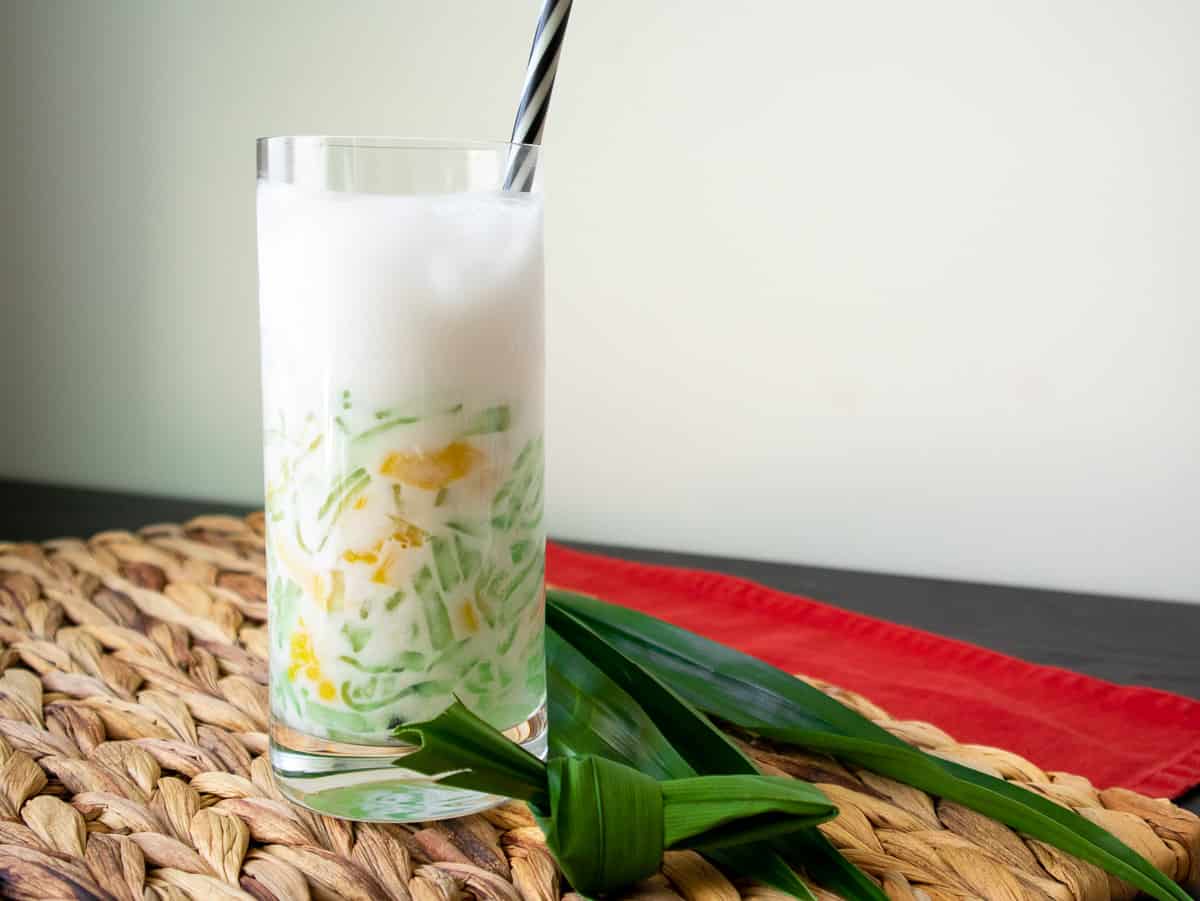 PROPER STORAGE OF THE TAPIOCA NOODLES
Uncooked Noodles - Once the noodles have been cut, they should be cooked as soon as possible. If you leave them out, they may dry out, become brittle, and break; they may also clump together, especially if they are piled on top. Cover them with plastic wrap if you need to leave them for a while.
Cooked Noodles - After draining the noodles, they will clump together if you don't serve or construct the dessert straight away.
- If not serving immediately, build the dessert with jackfruit, syrup, and coconut milk, but add the ice last. The liquid will keep the noodles from clumping, and even though they will gradually swell, they will keep for a few hours.
- If you put cooked noodles in the fridge, the texture will harden, and they won't have the same soft chew.
Experiences by Japan Crate : Boba Tea Experience Set
The combination of tapioca noodles with milk tea, sweet treats, or crushed ice creates a nostalgic ambiance reminiscent of childhood desserts made by grandma in the backyard, and more and more businesses are using it as a topping for drinks. Taro balls, potato balls, and red beans are other traditional desserts that mix well with tapioca noodles. Noodles with Bubble Tea and Coconut Milk. You read that correctly! It's similar to bubble tea, but it's made with chewy tapioca noodles in iced coconut milk. Lod chong Singapore is a popular Thai street snack.
The Boba Tea Experience Set by Japan Crate will let you experience making your own boba tea at home. Experience the fun of making your boba tea at home. You can enjoy boba tea at home in simple and easy steps. This set includes tea bags, tapioca pearls, Japanese sugar syrup, condensed milk, reusable straw, and a tumbler.
TAKEAWAYS
More and more businesses are adding tapioca noodles as a topping to drinks to bringing back memories of simpler times when we could indulge in delicacies produced by our grandmother in the backyard with taro, potato, and red bean balls. Tapioca noodles go well with milk tea, sweet snacks, or crushed ice.
Experiences by Japan Crate offers exclusive deals and promos worldwide. When you order now, you can get a free shipping voucher. Where there is no subscription needed when you want to order your desired product, like this Boba Tea Experience Set. For more detailed information, visit our website now!
Choosing a selection results in a full page refresh.
Press the space key then arrow keys to make a selection.
Your cart is currently empty.