The art of Sweet Potato Boba Tea
To enjoy bubble tea, try this simple and nutritious sweet potato boba! Sweet potato and tapioca flour are used to make these boba pearls, sweetened with stevia. Serve with milk, fruit tea, or your favorite beverage! Sweet potato bubble tea topped with cinnamon spiced sweet cream and hand-rolled sweet potato pearls. With the sweet potato, this is a delightful and chewy boba tea drink with a Fall twist!
This sweet potato boba has instantly become one of the best bubble tea flavors I've prepared at home. The sweet potato pearls are entirely unexpected, but they're a great way to flavor the drink. You may always make your own if you need help getting classic boba pearls in your local stores.
What are sweet potato balls made of?
In Taiwan, sweet potato balls are a popular bite-sized street food delicacy. They have a crunchy exterior and a chewy texture in the inside. The inside texture is bouncy, comparable to tapioca pearls in bubble tea, and is made with tapioca flour. They are often deep-fried and covered with sesame seeds. Similar variants can be found in Indonesia and Thailand. They're perfect for breakfast or afternoon tea.
Is boba made from sweet potato?
Boba refers to both the bubble tea drink and the chewy pearls in the drink. Tapioca, a starch derived from the cassava root, makes the pearls. The drink comprises tea, liquid (juice or milk), and toppings. Tapioca is a starch derived from the cassava root. It's a South American root that's been utilized in cuisine for millennia. It resembles sweet potatoes and can be found in various sugar-free candies today that is solf by the street vendors.
Reasons to love this sweet potato bubble tea recipe:
Easy to make - you can make this sweet potato boba tea in just easy and simple steps.

Unique - it's a quick escape from your typical boba pearls.

Soft and chewy - very happy to chew because of its sweetness.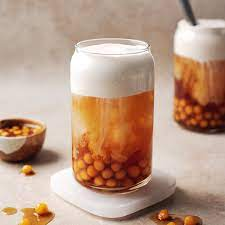 Sweet Potato Bubble Tea Recipe
Sweet potatoes that are subtle and earthy are mixed with soy milk and brown sugar syrup to make a creamy, delicious, and refreshing milk tea (minus the actual tea). Pair with fresh boba to munch on while sipping.
Ingredients:
Black Tea - Allow your tea to cool before proceeding with your plans. You can use any black tea with a sweet potato flavor. Use 2 tea bags or 1-2 tablespoons of loose-leaf tea.

Sweet potatoes - One small-medium sweet potato is well enough. They are distinguished by their reddish brown skin on the surface and orange flesh on the inside, as opposed to yams with light brown skin and pale, off-white interior.

Glutinous rice flour - Boba pearls get their chewy texture from this. Because glutinous rice flour contains more protein than tapioca starch, it provides a different, more substantial chew, which is why I used a combination of the two. If you have access to Thai rice flour, go for the one with green packaging.

Tapioca starch - This gives boba its chewy texture and keeps it from sticking together or to your hands. This is the blue packaging of the Thai brand of rice flour.

Brown sugar - This is the drink's major sweetener, and the boba pearls are soaked for added flavor. You can use granulated sugar or liquid sweeteners like maple syrup instead, but brown sugar tastes better.

Whipping Cream - This is what gives the milk tea its creamy texture. I combine this with cinnamon and sugar to make a sweet cream reminiscent of Starbucks' sweet cream.

Granulated sugar - This only slightly sweetens the sweet cream. You can skip this step if the brown sugar syrup is sweet enough for you.

Ground cinnamon - Cinnamon and sweet potato blend so well together in the fall.
Step-By-Step Procedure:
Steeping the tea

Steep your preferred black tea in of boiling water for 5-10 minutes. Remove the tea bags or leaves and chill in the fridge while preparing the pearls.

Make the sweet potato pearls

Here are the steps in making your own sweet potato boba pearls:

Cut a small sweet potato into medium chunks after peeling it. Fill a pot halfway with water to cover the sweet potatoes. Bring to a boil over high heat, covered. Remove the lid and cook for 15 minutes until the sweet potatoes are tender and readily pierced with a fork.

Drain the sweet potatoes and mash them into a pulp with a fork. Pour mashed sweet potato into a small bowl.

To the mashed sweet potato, add glutinous rice flour and tapioca starch. Stir with a spoon, then knead with your hands until it forms a soft but not too sticky dough. If the dough is too wet, add more tapioca starch as needed.

Sprinkle a little tapioca starch in a separate bowl and dust your hands. Take small pieces of dough and roll them into small balls with your fingers. Pour the rolled pearls into the new bowl and swirl them around to coat them with tapioca starch and keep them from sticking together. Repeat with the rest of the dough.

Bring a small pot of water to a boil, approximately 2" deep, and add the rolled pearls, giving them a quick toss. Cook the pearls for about 5 minutes or until they float to the surface and are well cooked.

Remove the cooked pearls from the stove and place them in a small bowl with brown sugar and a few tablespoons of cold water (or ice cubes) to keep them from sticking together. Allow the pearls to soak in the brown sugar syrup while you make the rest of the drink.

Make the sweet cream

Whipping cream, granulated sugar, and cinnamon should be combined in a compact container with a tight top (a mason jar works nicely). Screw on the top and aggressively shake for about 1 minute or until the cream thickens but remains pourable.

Mix all together
Pour roughly 100g of sweet potato boba pearls into each serving glass. Fill the remaining 34% of the glass with ice. Pour approximately 150g of cooled black tea and top with approximately 70g of sweet cream. Stir everything together before drinking with a boba straw!
Experiences by Japan Crate : Boba Tea Experience Set
To enjoy bubble tea, try this simple and healthful sweet potato boba! With our DIY Bubble Tea Experience Set, you can now prepare your boba at home using high-quality ingredients and customize your drinks to your preferences. Using our reusable straws, sip from your favorite cup, tumbler, or glass. This is the ideal present for boba fans everywhere. The Boba Tea Set includes tea bags, tapioca pearls, japanese sugar syrup, condensed milk, reusable straw and tumbler.
Takeaways
Experiences by Japan Crate offers exclusive deals and promos. Our Boba Tea Experience Set can help you reduce time in making your own boba tea. Instead of buying at a boba tea shops, you can now make your personalized boba tea at home. In just quick and simple steps you can enjoy boba tea at home. Take note that there is no subscription needed when you wanted to order. Visit our website now, for more information.
Choosing a selection results in a full page refresh.
Press the space key then arrow keys to make a selection.
Your cart is currently empty.