Kyaraben: Cute Character Bento Box
The bento box, or prepared lunchbox, is essential to Japanese bento culture that is commonly found and sold at different convenience stores. A bento box is a tiny lunch container that may be taken to school or work and provides a variety of cuisines in small packaging. Character bento, also known as kyaraben, has recently acquired popularity. Kyaraben is bento box lunches styled like characters from popular cartoons, comic books, video games, and other media. This article will introduce you to the world of kyaraben by discussing what they are, how to cook them, and giving you some examples to get ideas for your bento box!
What is a kyaraben bento?
Character bentos, also known as kyaraben, were developed to encourage fussy children to consume a larger range of meals, particularly vegetables. Kyaraben was created to whet children's appetites and make veggies and other components more appealing. Kyaraben has become so famous that national competitions for the most artistically appealing arrangements are established. Kyaraben is a new Japanese cultural style that combines traditional and modern arts and cuisine.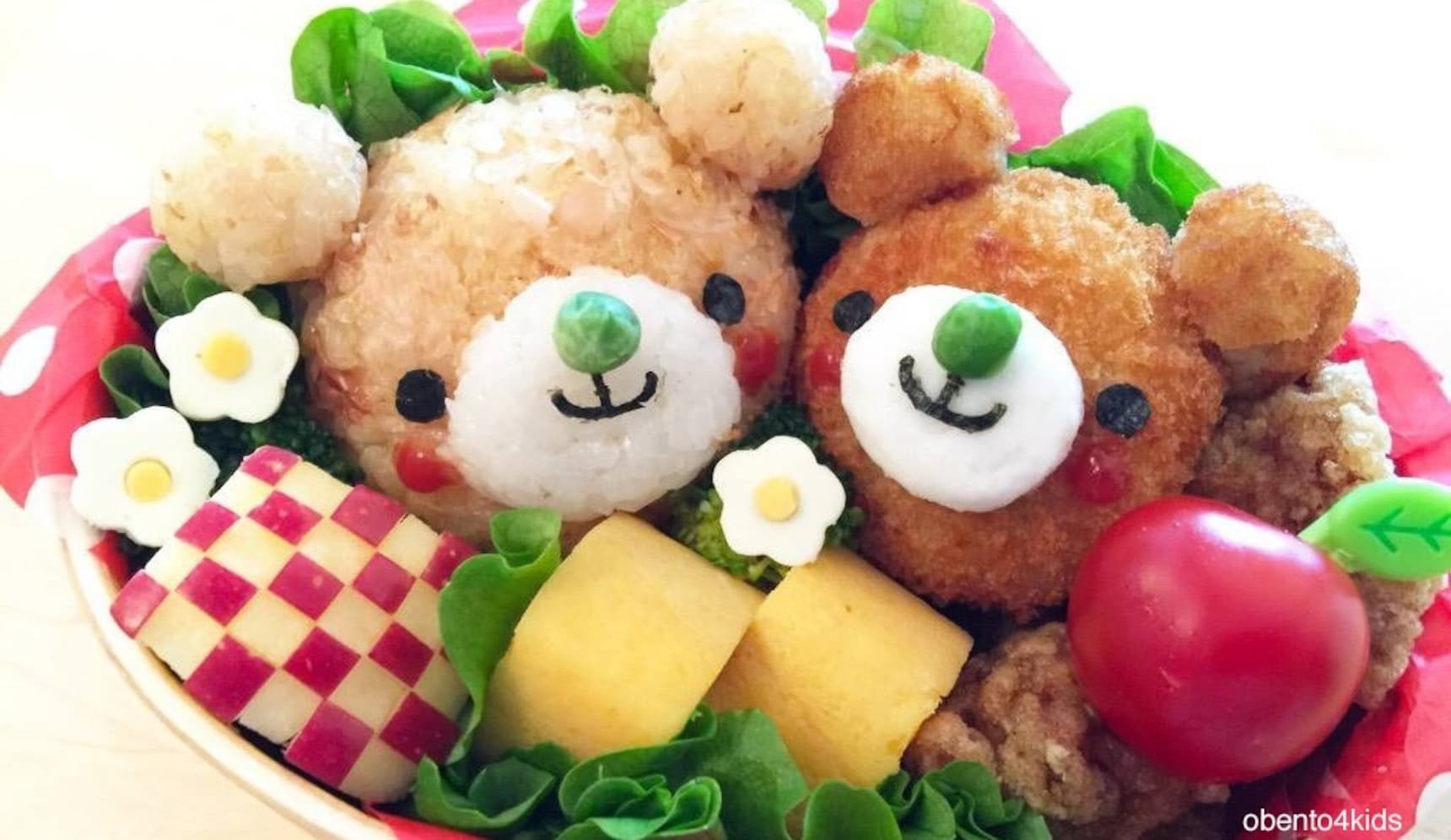 What is in kyaraben?
Tuna soboro, sliced cheese, bonito flakes, carrots, and freshly cooked rice (white rice) are all essential ingredients. Take note that you can use other ingredients it always depends upon your dish or recipe. Make a triangle or circular rice ball first. Make a cheese horn and decorate it with tiny nori strips. Apply mayonnaise to the bottom of the rice ball to keep the nori in place.
What is the purpose of the character bento?
Character bento, also known as kyaraben, are well-known for their recipe uniqueness, style, wit, and innovation. Kyaraben emphasizes the concept of "kawaii," or cuteness, to give a well-balanced meal in a convenient, transportable bento box, originally intended to encourage kids to eat lunch.
A must have bento tools for a successful bento kyaraben
Don't worry about lunch when these bento tools can handle it. These bento accessories will allow you to finish your lovely kyaraben bento. Even if you could be a better cook, these accessories will make you look like one. The great thing about these bento molds and equipment is that they allow you to make various simple and inexpensive meals.
ONIGIRI MOLDER
From the traditional round rice dumpling to onigiri shaped like a cat, rabbit, or otter head, these various onigiri shapes allow you to express your creativity. For those unfamiliar with the term, onigiri is a rice ball with a filling inside. Onigiri is often triangular, filled with salty or sour foods, and wrapped in nori seaweed. This dish is similar to ham and butter in Europe because it is easy to eat with your fingers and is great for your bento. If your child is picky, a rice ball shaped like an adorable cat's head will be a welcome surprise at lunch.
COOKIE CUTTER
Allow these different-shaped cookie cutters to turn your ordinary bento into art pieces. To make miniature hearts or flowers, press the cookie cutter on whatever you want to cut (carrots, cheese, etc....). This is the tool for you if you appreciate paying attention to small details.
FACE BENTO NORI PUNCH
Cut charming happy faces in your nori seaweed leaves using the face cookie cutter and then arrange them on your tasty onigiri. When you open your bento for lunch, it's tough not to smile.
SHAPE PICKS
Replace wooden toothpicks with reusable plastic toothpicks. These beautiful and eco-friendly picks are excellent for selecting sausages, vegetables, and anything else a conventional pick can pick. Food picks in all shapes, colors, and sizes will immediately add character and color to your bento.
MINI SAUCE CONTAINERS
Bring your salad separately if you don't want it to get inundated and mashed with dressing. These reusable, waterproof bottles are great for keeping little amounts of salad dressing or soy sauce. Hello there, crispy lettuce!
How to make a character bento at home?
RILAKKUMA CHARACTER BENTO BOX
Ingredients FOR RILAKKUMA :
any cooked rice such as white rice

ketchup or soy sauce

salt

sliced cheese

seaweed
Ingredients FOR YELLOW BIRD (KIIROITORI) :
boiled egg

sliced cheese

nori seaweed sheet
STEP-BY-STEP PROCEDURE:
Ketchup should be mixed into the rice until it gets the desired color. Ketchup can be replaced with soy sauce.

Using the cling film, shape a bit of rice into Rilakkuma's face. Rep with Rilakkuma's ears.

Two lettuce leaves should be used to line the bento box.

After unwrapping Rilakkuma's face and ears, please place them in the bento box.

Cut the boiled egg in half and place it in the bento box.

Cut sliced cheese and seaweed into the shapes and sizes required for the Rilakkuma and Kiiroitori features. Put Rilakkuma and Kiiroitori on them.

Put your favorite side dishes in the bento box, such as potato salad, fried chicken, sausage, and vegetables.
Other Cute Japanese Character Bento Ideas You Must Try At Home!
Kyaraben is a combination of the words kyarakutaa, which means "character," and bento, both from Finnish. Meals prepared in the bento box style typically feature food diced and fashioned into cartoon characters, cuddly animals, or picturesque scenes. Mothers typically make these bento boxes for their kids' school lunches. It makes Japanese dinners more attractive and less monotonous while also serving as a means to demonstrate your appreciation for your children.
Doraemon Bento

Hello Kitty Bento

Totoro Bento

Pikachu Bento

Kumamon Bento

Snoopy Bento

Anpanman Bento

Mario Bento

Melody Bento

Cinnamoroll Bento

Gudetama Bento
Experiences By Japan Crate : Bento Experience Set
In Japanese food culture, the bento box has a lengthy history. Bento boxes are becoming increasingly popular in the United States and Europe. A bento box with a cute character made of various food ingredients is known as a character bento box. Many Japanese mothers prepare character bento for their children's lunches every morning. Character bento began as a way for parents to encourage their children to consume nutritious foods by making them appealing, but it has now spread throughout the country. Japan Crate's Bento Experience Set recommends that bento boxes be prepared quickly. As a result, you can make your own character bento box at home. Experience making it at home with Bento Experience Set. The set includes a two-tiered bento box, a carry bag, seaweed art, food dividers, food picks, a utensil set, and a sauce container.
TAKEAWAYS
Bento boxes are designed to be carried around. With this character bento box, we add to the enjoyment of dining al fresco by creating a character bento that will delight both children and adults. The best part is that you can prepare this dish quickly at home! Purchase your Bento Experience Set at Japan Crate's website. We offer free shipping worldwide. Visit the website now and be part of our exclusive deals and promos.
Choosing a selection results in a full page refresh.
Press the space key then arrow keys to make a selection.
Your cart is currently empty.