Japanese Bento Box Guide 101: What is Koraku Bento Box?
There are countless options for a cheap lunch for a lunch break in Japan, including sushi rice, ramen, and even Japanese barbecue, no matter where you are you'll experience cherry blossom viewing while eating Japanese foods. Every day of the week, you can find yourself enjoying lunch at a new place! But the bento box, a Japanese-style lunchbox, is a practical method for many Japanese people where it can be bought from a convenience store or you can make your own style of bento lunches, from schoolchildren to politicians, to have their noon meal. Bento boxes are frequently meal trays that serve one person. A traditional Japanese bento box dinner contains rice, salmon, pork, and pickled vegetables. The most prevalent varieties of bento boxes include the marukonouchi bento, makunouchi bento, the koraku bento, the hinomaru bento, the shikaeshi bento, the aisai bento, the ekiben, and the kyaraben.
At the end of this article, you'll learn about bento boxes, how they're created, and where you can get one. Most importantly, we will show you how to make the perfect bento lunch and why the bento box is a popular food for both young and old.
What is Bento Box?
A bento is a single-portion boxed lunch that normally consists of starch (usually rice or noodles), a protein (usually meat or fish), and a selection of pickled or cooked vegetables. The world is drawn from the Chinese Southern Song slang term Biandang, meaning helpful. Since the 13th century, the bento has served as a symbol of Japanese culture and beliefs. The balanced nutrition and portability make it excellent for schoolchildren and adults, providing the perfect energy boost in the afternoon. And, of course, that convenience is provided by the nicely designed and constructed bento box. A proper bento lunch is meticulously constructed and should include diverse flavors, textures, and food categories. Rice, shrimp, pork, and lotus root, pickled vegetables are all common ingredients.
Traditionally, the household mother makes these boxes for her children and husband, while bento boxes are increasingly widely purchased as take-out products from every convenience store bento boxes, train station, and restaurant.
The History of Bento Boxes
The term bento was not used in the early days of the lunchbox's invention. Beginning around 1185 in the Kamakura Period, the name was Hoshi-ii, or dried food. It would be nothing more than dried rice, with no packaging, to be consumed as is or boiled in water. In the Azuchi-Momoyama period in 1568, wooden lacquered boxes were designed to make the boxed bento we know today.
The bento evolved into a common dinner throughout the Edo period, which ran from 1603 to 1867, with contents and presentation methods that varied by social class and line of work. Koshibento (waist bento), which frequently contained riceballs wrapped on bamboo leaves, was carried by tourists and travelers. Large, heaped Bentos were developed to commemorate significant occasions, like hanami (flower-watching parties). Aluminum and plastic were initially employed in bento preparation in the twentieth century, which led to the development of hokaben (a microwaveable bento), konbini bento (a bento for a convenience store), and ekiben (a meal at a train station) (take-out bento).
Japan Bento Box: What Is It Made Of?
Like convenience stores, Japanese bento boxes come in various forms, sizes, prices, and appetites. At Seven Eleven, Lawson, and Family Mart, you can get a wide variety of bento boxes at cheap prices and a variety of cuisine. The ease of bento boxes has gradually made convenience stores a go-to lunch place; you will undoubtedly see many office workers rushing into these establishments to purchase them for themselves or their coworkers. These seemingly tiny and typical bento boxes are considered the life and soul of many Japanese people. They became embedded in Japanese citizens' minds and were an important part of national culture. As a result, bento is considerably more than a normal lunchbox.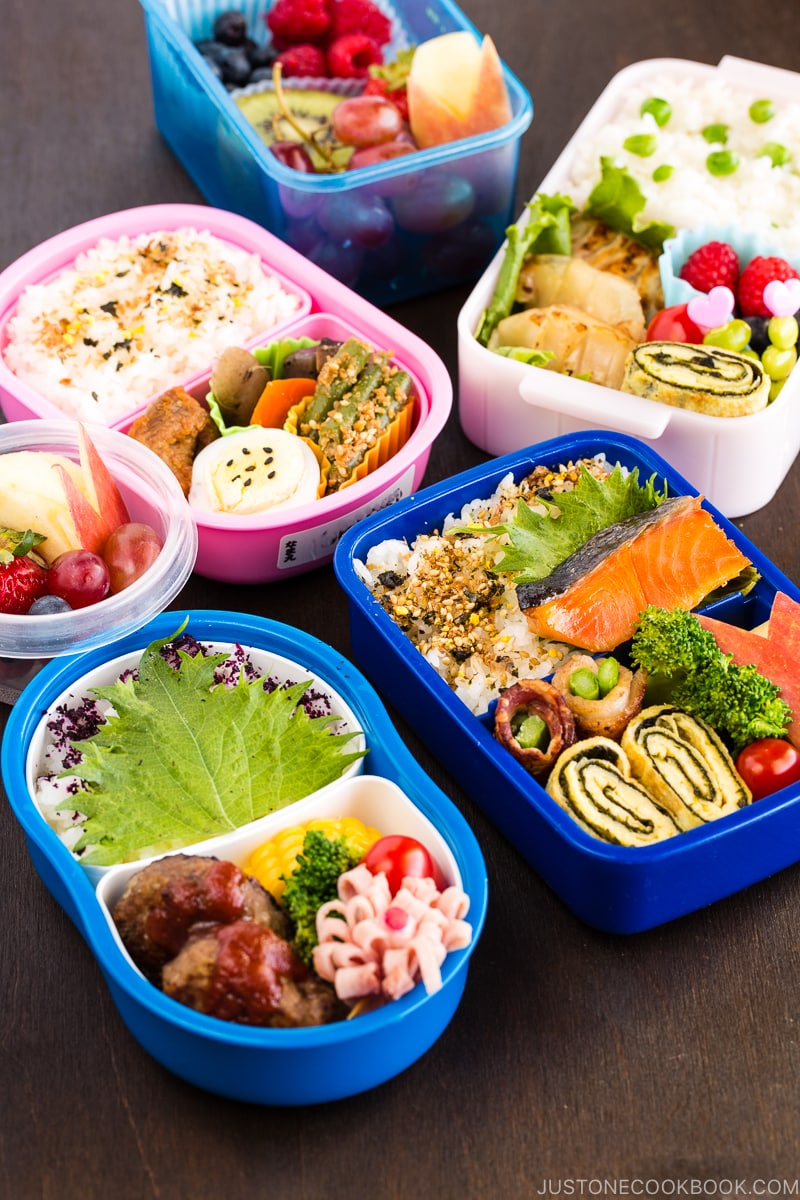 Types of Bento Boxes
There are many different types of bento boxes. Here are they:
Koraku Bento Boxes (picnic bento)
Koraku bento is a 'picnic bento' in Japanese. It is enormous and designed to hold a dinner for a small group of people. It is commonly used during spring when many groups go to see the beautiful cherry blossoms. It primarily consists of traditional Japanese cuisine designed to reflect the season.
Marukonouchi Bento
These two-section bento boxes, often found in convenience stores, supermarkets, and department stores, are prepared by a caterer. The box has a rice dish on one side and small dishes on the other. This form of bento was initially served at Kabuki theaters as a lunch between acts for actors and audience members.
Hinomaru Bento Boxes
Hinomaru means "circle of the sun" in Japanese and refers to the Japanese flag. Hinomaru bento is a typical box filled with steamed rice and a pickled umeboshi in the center. Because the red umeboshi or plum resembles the Japanese flag, this bento is known as the 'Hinomaru' bento.
Aisai Bento Boxes
Aisai bento is a special lunch for her husband or children to take to work or school. Similarly, young women in relationships may prepare a homemade bento for their significant other throughout the spring season.
Eki ben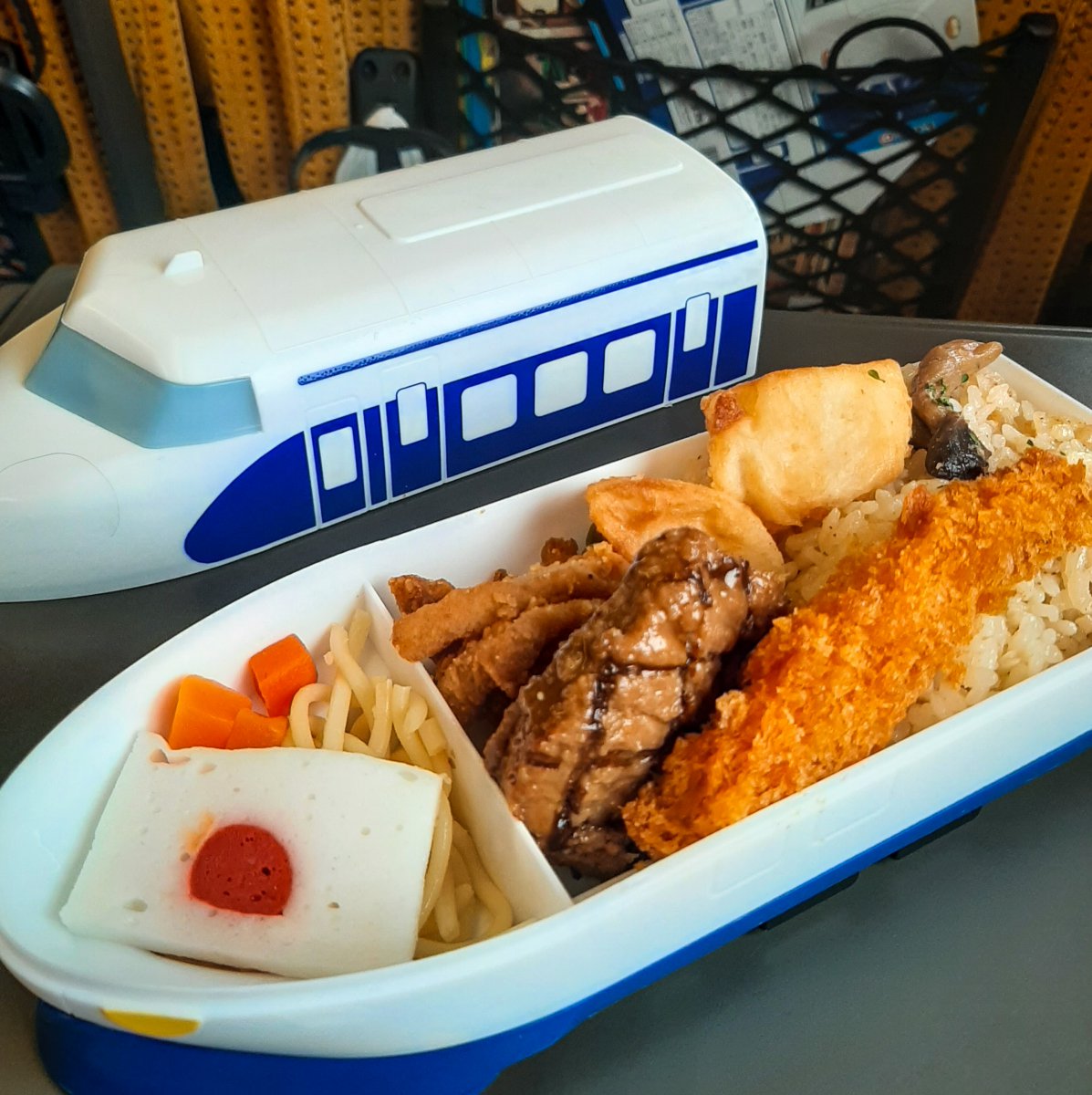 These high-quality lunchboxes, a cross between eki (train station) and bento, are sold at major railway stations, including on the platform and train itself. The eki ben is a meal served in a disposable plastic, wood, or ceramic box with chopsticks. The lunchbox components frequently symbolize the staple foods of the area, with particular stations becoming nationally famous for the quality of their bento boxes. Similar train dinners have grown in popularity in many East Asian nations, most notably Taiwan.
Kyaraben (character bentos)
Kyaraben ("character bento") are children's lunchboxes in which rice and other bento box dishes are molded and sculpted to resemble popular anime, manga, or video game characters. The adorable characters not only provide color to the typical lunchbox but also encourage school children to eat meals they do not particularly enjoy. In addition to well-known people, kyaraben may include animals or natural settings depending on the season or event for more convenient way.
What is the most popular bento box in Japan?
The most popular bento box in Japan is the Koraku Bento Boxes. This huge bento, which translates to "picnic bento box" in Japanese, is designed to be shared among a small group. They are notably prevalent during the hanami (cherry blossom viewing) season, which runs from late March through early April. The components in the lunchbox, like many traditional Japanese cuisines, are purposefully chosen to match the season in which it was cooked. In a koraku bento, onigiri (triangular rice balls) and maki-zushi rolls are regular fares.
Benefits of Bento Boxes
Bento-style lunch boxes are popular among parents worldwide due to their ease, variety, and durability. It's no surprise that parents adore them! Here are some more reasons why bento boxes are so popular.
Help kids to balanced diet -

Easy to clean - It's not just a logistical, Tetris-like headache to pack various containers into your child's insulated lunch box or cooler bag; it's also a hassle to clean at the end of the school day! It is much simpler to choose one bento-style lunch box tray because some of them can be placed on the top rack of your dishwasher.

Good for the environment - One of the essential advantages of a bento box is that it helps to save the environment. Because of its built-in divisions, various meals do not have to come into contact with one another, eliminating the need for single-use plastic bags or wraps.

Perfect for picky eater - Parents of picky eaters or kids with food aversions will agree that presenting touching dishes is usually a challenge - but not with a bento box! Not only do the numerous compartments keep everything separate, but the diversity of different foods might help picky eaters feel more empowered over what they're consuming.
Tips on what to put inside a Bento Lunch Box?
A bento box's dividers make it easier to pack smaller portions of healthy foods. This method of eating is good for picky eaters who don't like their food touching or who like to eat. Simpler dinners like this one are much easier to prepare on busy days.
Here's the step-by-step procedure on how to make a bento box:
Start adding protein - This is the greatest option to ensure that you have enough energy to get through the day. Here are some suggestions on what protein you need to add:
HARD-BOILED EGGS
BEANS
CHICKEN
CANNED FISH

Next, add fruits and vegetables - Adding sweet fruit and fresh vegetables will encourage you or your kids to eat enough food inside the bento box.
FOR FRUITS - Try fresh blueberries, strawberries, blackberries, raspberries, cherries, kiwi, melon (honeydew, cantaloupe, or watermelon), apples, pears, or grapes.
FOR VEGETABLES - Add cucumber slices, carrots, bell pepper, celery, radishes, red onion, sprouts, pickles, olives, broccoli, cauliflower, mushrooms, and cherry tomatoes. Each of them can be sliced and added to the bento box raw.

For the last, try to add dips or sauces. Take note that this is optional because some kids don't like it - Healthy fats are also a good source of energy. These can be found in both hummus (from chickpeas) and guacamole (from avocado). You can also add a handful of nuts or seeds for healthy fats. Because some children dislike dips and sauces, this step is entirely optional. Instead, use sliced avocado, chickpeas, almonds, or seeds. Here are some ideas about dips and sauces:

HUMMUS

GUACAMOLE

PLAIN GREEK YOGURT

RANCH DRESSING

SEED BUTTER OR NUT BUTTER
Experience by Japan Crate : Bento Experience Set
Outside Japan, the Japanese bento is gaining popularity as a convenient method to prepare a colorful, nutritious, well-balanced meal for oneself, friends, or family. Bento boxes and lunch boxes have become interchangeable in recent years. Lunchboxes are no exception to the Japanese tendency to make the most of every available space—the food is packed neatly and snugly into a small square or rectangular form, making it handy to travel for children and busy office personnel. Traditionally, the mother of the home prepares dinner for her children and husband, although bento boxes are now widely available in convenience stores and restaurants.
Create your own cute bento lunch box. With our Bento Experience Set, you may create your own finest bento boxes. Because this is your first time building your own bento box with our Bento Experience Set, you don't need to be concerned about the process. It will allow you to quickly and easily make a bento.
Takeaways
Modern Bentos are available in various forms and sizes, with bento enthusiasts able to choose from boxes made of traditional lacquered cypress wood, metal, or plastic, in standard oval or bespoke shapes. Some bento boxes have compartments for ice packs, cutlery, chopsticks, and drinks. Prepare to relive your favorite school days in Japan by stylizing your own bento box and learning how lunch boxes have been created consistently, with intricacy and love, for decades. The bento box dates back to the Kamakura period in the twelfth century when it was known as hoshi-ii, or "dried meal," and was refined in the Edo period (1603-1867), when it became fashionable to travel or sightseeing with koshi bento—bento boxes worn around the waist that contained onigiri rice balls wrapped in bamboo leaves.
With our Bento Experience Set, you may create your own ultimate bento boxes. Because this is your first time building your own bento box with our Bento Experience Set, you don't need to be concerned about the process. It will allow you to quickly and easily make a bento. The advantage of experience sets is that they allow you to maximize your time while still allowing you to complete activities independently. The set includes a bento box (two-tiered), a carry bag, seaweed art, food dividers, food picks, a utensil set, and a sauce container.
Experiences by Japan Crate offers savings and free shipping worldwide, and there is no need to subscribe when you order. Order yours now if you want to try preparing your own bento box meal or packing lunch for your loved ones.
Choosing a selection results in a full page refresh.
Press the space key then arrow keys to make a selection.
Your cart is currently empty.