How to Make Taro Balls (Sweet Potato Balls) - Traditional Taiwanese Dessert
Taro balls, a favorite Taiwanese dessert, can be made at home. This article explains this dessert and provides a recipe to try at home!
When someone says Taiwanese cuisine, the first two meals that come to mind are taro balls and Taiwanese fried chicken, followed by Lu Rou Fan, Taiwanese beef noodle soup, and grass jelly. Certain meals and desserts are easy to get in Mainland China and taste wonderfully authentic. For example, Xinguang Tiandi, a Taiwanese commercial real estate agent, brings practically the most authentic Taiwanese raw and cooked food to my hometown. We are overjoyed and thankful to be in a location with cutting-edge transportation and a thriving exchange of cultures. This classic Taiwanese dish is incredibly chewy and requires only a few ingredients. You'll adore these vibrant "relatives" of boba if you enjoy boba.
What is Taro Balls?
Taro ball is a classic Taiwanese delicacy that originated in Jiufen, Taiwan's most popular tourist destination. Taro (also known as dasheen) and sweet potato root vegetables are usually used in this dish. Taro balls have the popular Taiwanese QQ texture and taro and sweet potato flavors. Traditionally, there are just two flavors: taro and sweet potato; however, purple sweet potato, matcha, chestnut, and other varieties are now available. Taro balls can be grey or purple, depending on the root vegetable used. They have a little sticky and starchy flavor. The purple former root plant turns purple-gray when cooked. As a result, this snack is also known as purple potato balls. Meanwhile, sweet potatoes turn a pale orange when cooked. When the colors are put together, they create a visually pleasing dessert of taro balls and sweet potatoes.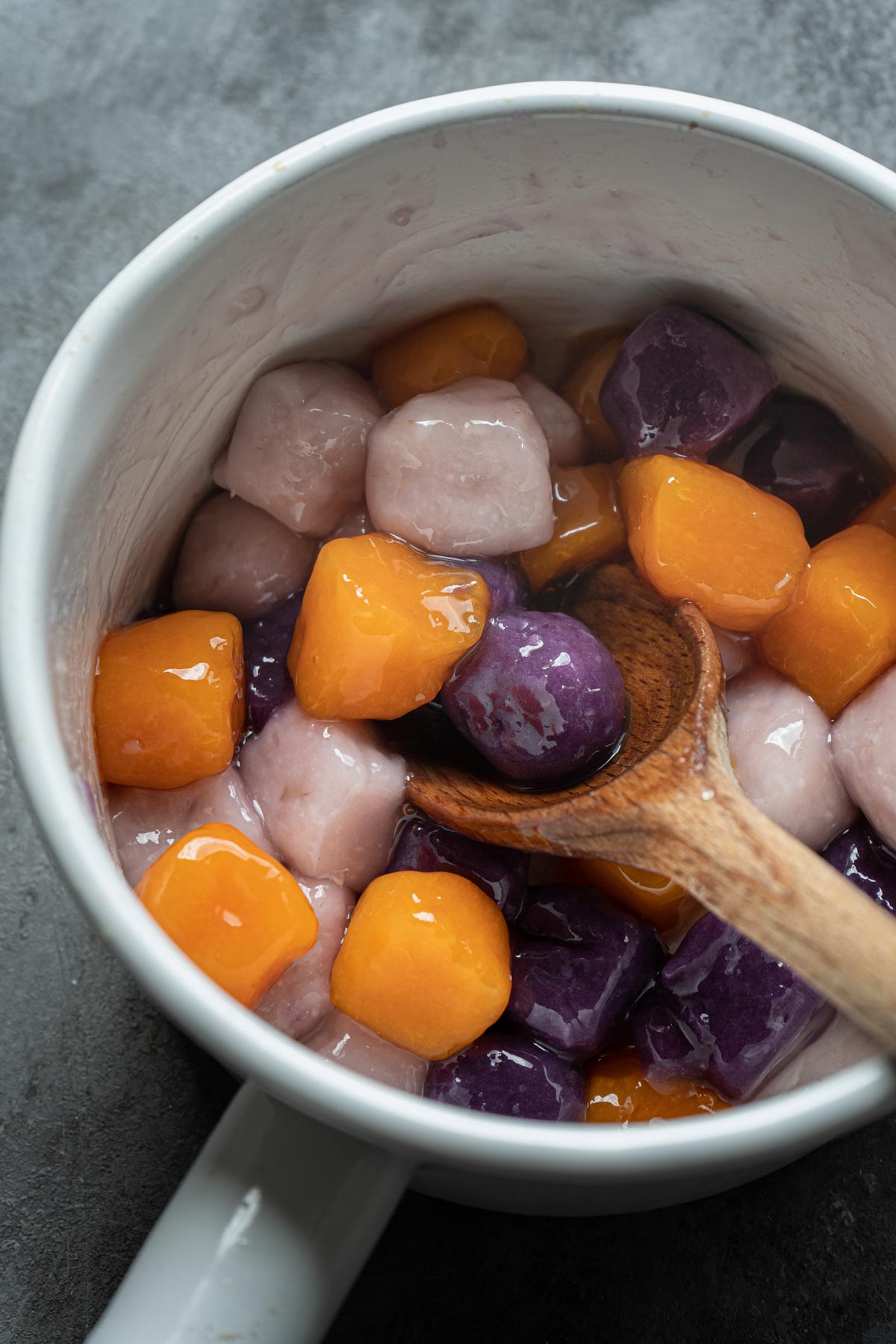 What are Taro Balls Made of?
To make the taro balls more bouncy or soft, add mashed taro with water and either sweet potato flour or potato flour. The color of the mashed taro gives the dessert a clear purple or grey appearance. Here's an idea on how to make taro balls as your dessert:
Peeled Taro

Orange Sweet Potatoes

Sweet potato starch or Tapioca starch

Add brown sugar syrup if needed

Water, for adjusting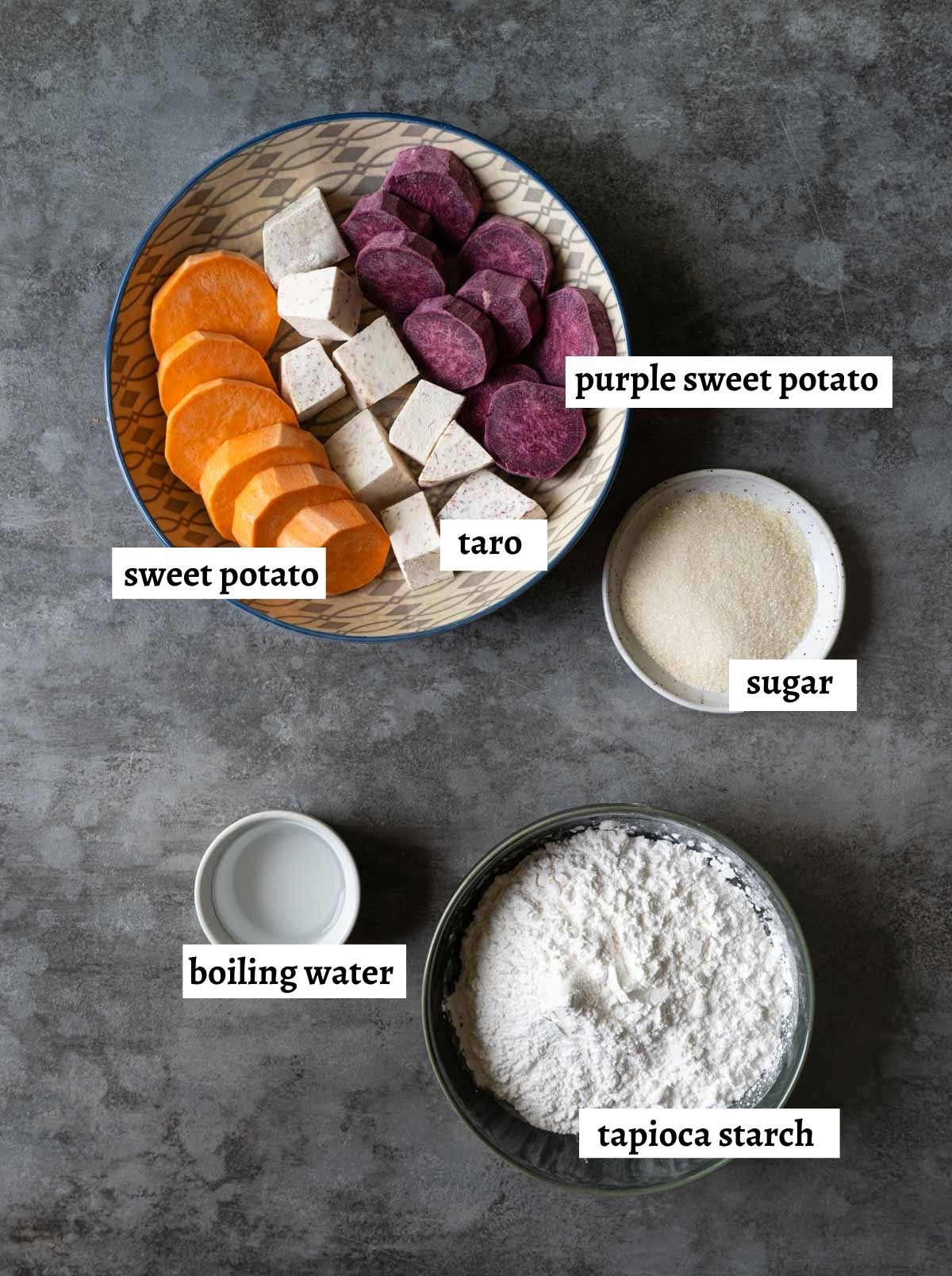 How to make taro balls and sweet potato balls dessert?
Here's the step-by-step procedure or the whole process on making taro balls and sweet potato balls. Here's a simple recipe you must try at home:
Steam and then mash the taro and sweet potato while it is hot.

For the ordinary sweet potato, knead and shape it into a ball, cover it, and leave it away.

Add tapioca starch and 2 teaspoon sugar to taro and purple sweet potato, stir, and mix with your hands until you achieve your desired consistency.

Pour around 2-3 tablespoons boiling water into the taro and purple sweet potato mixture and let it sit for 30 seconds before kneading it into a ball.

Cut the dough into small squares.
-Cut the usual sweet potato dough in half before rolling it into a log (approximately 23" or 1.5cm in diameter). To keep the log from sticking together, cut it into little pieces and cover it with extra tapioca starch. Repeat with the remaining dough.
-Because taro and purple sweet potato dough is dryer and more difficult to roll into logs, I prefer to cut it in half, shape it into a ball, and then flatten it with the dough cutter to 23" or 1.5cm thick. Finally, cut the dough into small dices, smooth the edges with your hands, and toss with tapioca starch to prevent sticking.

Bring a pot of water to a boil over medium heat (approximately 6 times the amount of taro/sweet potato balls you intend to cook). Once it begins to boil, add the taro/sweet potato balls, give them a quick swirl, and simmer until they all float to the surface.

It's now ready to serve! It's time to serve it with grass jelly, honey, and cream. It's very delicious and filling. We hope you can try it!

 
Other Toppings you can add or serve with your Taro Balls:
Together with the boba tea, you'll make a yummy and perfect tea flavor.

Sweet Condensed Milk, to add sweetness and flavor

Red Beans (Adzuki Red Beans), perfect to combine with taro balls

Add sugar based on your level (depends on the sweetness level you want)

You can also serve it with grass jelly or tofu pudding

Combine taro balls with a lychee jelly to enhance it.

Serve your taro balls hot or chilled with red bean soup

Give a try to eat with ginger syrup
What makes Taro Balls (A Classic Taiwanese Dessert)Popular?
FRESH INGREDIENTS: With the fresh ingredients use, you can get all the vitamins (nutrition calories)including anti oxidants to make your body healthy.

TAPIOCA STARCH: It adds a fun of chewiness. This is the best substitute with potato starch because it can be found in any Asian grocery stores.

SUGAR CRAVING: Gives extra flavor and color to prevent using food coloring or any preservatives.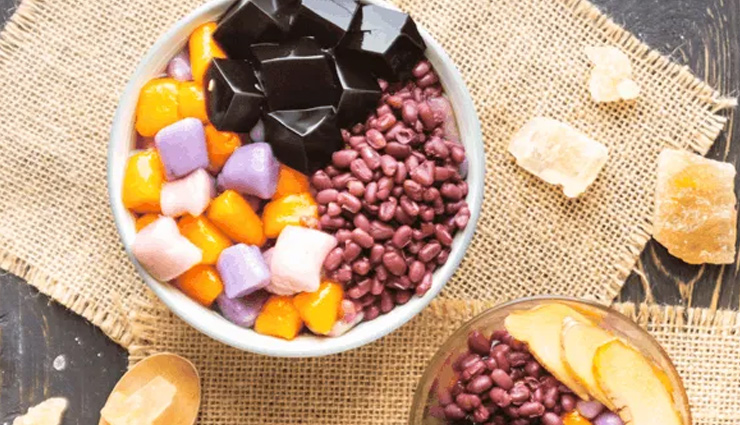 Tips in Making a Perfect Dessert
Check the potatoes' color. Check the exposed ends of the larger separated pieces. When cooked, the ends will show the color of the flesh.

Make sure the balls are warm when it is tossed with the sugar. The sugar will transform into a glaze as it heats.

Vary amount of tapioca flour for the taro, purple or orange sweet potato. It always depends upon their starch content. Taro will require the least, purple sweet potato slightly more, and orange sweet potato the most.

Cook the balls, red beans and ginger syrup all together. Cooking them separately will consume a lot of time, it is better to cook it all together to save your time.

Presoak the adzuki red beans.
FAQS
Are Taro Balls sweet?
They have a little sticky flavor with a starchy flavor. Taro and sweet potato balls are other names for them.
How to Assemble the Taro Balls Dessert?
Fill your bowl with as many toppings as you desire, then drizzle with ginger syrup. It's entirely up to you how much you add. You may even add red bean soup for added taste!
How to Choose the Right Purple Sweet Potato?
There are three types of potato, choose a potato you wanted to use in your cooking process:
Purple skin with purple flesh

Purple skin with white flesh

White flesh with purple skin
Is Taro Balls Gluten Free?
These balls are prepared and combined with tapioca flour, but no one tells you. By the way, this is not gluten-free, and I would not recommend it to gluten-intolerant individuals.
Experience by Japan Crate : Boba Tea Experience Set
If you enjoy boba tea and have attempted to make it at home, you are familiar that those adorable little tapioca balls may be time-consuming to produce from scratch. But don't be concerned! There is now a plethora of boba tea kits available on the market, making it simple to enjoy your favorite sweet treat at home.
A bubble tea set makes it simple to enjoy your favorite boba at home. It is less expensive, easier, and better for the environment. Furthermore, they make an excellent gift for boba enthusiasts everywhere. We couldn't help but visit this fascinating location as boba fans. This Boba Tea Experience Set includes everything you need to make the perfect cup of bubble tea! Are you concerned that it will be difficult? Our simple recipe is a failsafe and takes only minutes to create while maintaining the same delectable flavor from your favorite boba shop!
Takeaways
Instead of going through the trouble of buying boba tea alone, you can quickly make one without spending a lot of time. The benefit of experience sets is that they let you make the most of your time without compromising your capacity for independent completion of tasks. Whether you are a resident of Japan or are located thousands of miles away, learning more about Japanese culture through experience or DIY kits like the Boba Tea set is an excellent method to do so.
Tea bags, tapioca pearls, Japanese sugar syrup, condensed milk, reusable straw, and reusable tumbler are included in the Boba Tea set. Experiences by Japan Crate provides discounts and free shipping worldwide. No subscription is required to order. If you wish to learn more about the product, follow the link to our website and order yours today!
Choosing a selection results in a full page refresh.
Press the space key then arrow keys to make a selection.
Your cart is currently empty.