Honeydew Milk Tea Recipe You Must Try Today
Honeydew boba tea is a refreshing drink. Texture-wise, it typically contains cooked tapioca pearls. It is a refreshing summer drink composed of ripe melon, green tea, and any desired type of milk. Not only is the fruity boba beverage popular for its pleasant aroma but also for its naturally sweet taste. The melon contributes to the extremely aesthetically pleasing green hue. This boba drink recipe is simpler than others. On hot days, a honeydew melon milk tea will help you feel better. It requires only a few basic ingredients and procedures and contains fresh honeydew. This honeydew boba is perfect for fresh fruit lovers.
Because fresh honeydew melon is nutrient-dense, adding it to a boba drink is a great way to make it more nutritious. This beverage is very popular because the chewy tapioca pearls, ice cubes, and honeydew melon's sweet, melon-like flavor complement each other. Need a midday pick-me-up or a snack loaded with antioxidants? Try this recipe for honeydew milk tea. Honeydew milk tea yields a sweet, luscious, and satiating beverage ideal for a morning pick-me-up. The following describes a honeydew milk tea taste that can be prepared in under 15 minutes using only essential pantry items.
What is honeydew bubble tea?
Summertime beverages that people enjoy include honeydew boba tea. The honeydew milk tea beverage is a type of boba. It consists of ripe honeydew melon, milk, tea, honeydew syrup and boba pearls, and it is a deliciously revitalizing drink or simply using milk tea powder such as honeydew powder and any type of milk such as oat milk and almond milk. Honeydew milk tea is a type of bubble tea that contains honeydew melon, either in its natural state or after being altered. This treat is also known as honeydew boba. They're served with pearls of chewy tapioca. There is an option to include tea. In the majority of cafes, brewed tea is not served. As a result, it does not contain any caffeine.
Honeydew milk tea typically does not contain tea, even though many people consider it a boba drink. In contrast, tea is an optional ingredient that can be omitted if desired. Recipes for boba with a taro flavor are very similar to this one. Honeydew milk tea is a traditional beverage, similar to taro milk tea, even though it contains neither tea nor boba.
History
Honeydew boba was a fruit-flavored boba tea that became popular in Taiwan in the 1980s. Tiny bubbles were generated when the fruit and tea were shaken together. How the first "bubble teas" were prepared.
However, tapioca pearls likely arrived in Tahiti a few years later. When tapioca balls were added to beverages, they created the appearance of bubbles.
The use of these tapioca pearl drinks quickly spread to neighboring East and Southeast Asian nations. In the west, bubble tea shops began to appear in the late 1990s. Today, these stores can be found all over the world.
What does it taste like?
The flavor of honeydew milk tea is similar to that of honeydew melon, which is sweet, reviving, and fragrant. Green tea imparts a hint of earthiness to honeydew milk tea, which complements its fruity, creamy, and tropical flavors. The flavor will vary based on the type of melon you choose, its ripeness, the time of year, and several other factors. If you're looking for a beverage that will boost energy and satisfy your sweet tooth, try this boba drink. We are confident that you will not be let down.
Is honeydew milk tea healthy?
Yes, it is beneficial! Numerous nutrients, including antioxidants, vitamins, and minerals, are available. The outcome will vary depending on what you put into it. We did not strain the honeydew melon used in this recipe because it was fresh. It contains every nutrient found in fruit. Use a sugar substitute with a low glycemic index to make it healthier. If you want your boba drink to contain more caffeine, prepare loose-leaf or bagged tea and add it. You can do this to add more caffeine to your drink. Again, we advise you to drink jasmine green tea.
Reason why you'll love this recipe
REFRESHING
This dish is composed of honeydew melon. Our bubble tea tastes so much fresher as a result. It is tasty and pleasant.

EASY
This fruit tea is much easier to make than it initially appears.

CUSTOMIZABLE
Prepare it based on your health, diet, or personal preference. You can adjust the ingredients to suit your diet. If you are following a special diet, such as a vegan one, you may substitute your preferred plant-based milk for the milk. You can use less sugar, more honeydew melon, or sugar-free or low-glycemic sweeteners.

NO PRESERVATIVES
A stabilizer is employed to maintain the stability of the liquids in packaged bubble tea. Additionally, some include chemicals to increase their durability. Honeydew boba tea made at home is the most effective means of avoiding them.

APPROACHABLE
It is straightforward to acquire the required ingredients.

FRESHLY MADE
There is nothing better than freshly prepared bubble tea. This delicious drink is simple to make at home, and you are certain to enjoy it.

VEGAN
This is a vegan recipe.

CAFFEINE FREE
Because it contains no tea, this contains no caffeine. If desired, tea can be added to the recipe.

ECONOMICAL
By preparing food at home, you'll save money.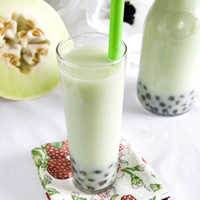 How to choose perfect melon?
Here's some few tips on how to choose the perfect melon you're going to use in making the perfect melon milk tea:
Size and weight
Ensure that the melon is proportionally heavy to its size. This will ensure that the meat is fresh and juicy.

Color
Consider melons with dull rinds. This indicates that the food is ready for consumption.

Smell
The honeydew should have a pleasant aroma, indicating it is ready to eat.

Rind
Do not purchase watermelons that have been cut, cracked, or have soft spots.

Hardness
Knock the watermelon. It should have a low, hollow tone.
Honeydew Milk Tea Recipe
ingredients
Honeydew - The higher the quality, the riper it is! The true test of the quality of this boba is whether it tastes like honeydew. The honeydew powder can be substituted if you cannot find fresh honeydew.

Tea - There are a ton of possibilities. It is recommended to use green jasmine tea. Matcha, black tea, oolong, fruit, and even matcha could be used.

Milk - Please do not add milk to this. It is recommended to use oat milk. This beverage tastes SO GOOD! You may substitute any other type of milk, however. The smoother something is, the higher it is quality!

Tapioca pearls - The price of tapioca pearls at your neighborhood Asian supermarket is significantly lower than online. You should assist this business in any way possible. Try Amazon if they are unavailable in your area.

Sugar - In most of the recipes, you could use any sugar (brown, coconut, granulated, caster, etc.), but in practice, lighter sugars maintain the drink's light and airy texture the best.
tools needed
Tall glasses

Saucepan

Blender

Knife

Chopping board

Spoon

Fork

Large straw
procedure
Make tea. Let steep, remove the bag & let cool.

Add tapioca pearls to boiling water in a saucepan. Let simmer for 5-6 mins.

Take it off the heat and pour it through a sieve. Add sugar & stir.

Peel and deseed honeydew. The food was cut into pieces and placed in a blender. Stir in milk until a smooth consistency is reached. If desired, blend again with ice cubes and matcha.

To serve, pour tapioca balls into a large glass. Upon request, serve with crushed ice. Pour tea over the top.

On top, pour a honeydew and milk mixture. If desired, mix well and add additional sweetener.
USING HONEYDEW MILK TEA POWDER
Milk tea powder may be substituted if you cannot find fresh melon fruit at the fruit market. Using melon milk powder to prepare this beverage is likely one of the simplest methods. Mix the ingredients and enjoy the beverage.
INGREDIENTS:
3 tbops of powdered honeydew milk tea

2 tsp of cooked boba pearls.

2 tbsp of creamer

3 tbsp of sugar

water
PROCEDURE:
Follow the instructions on the package to prepare the boba pearls, then set them aside.

Stir 250ml of hot water and honeydew tea powder until the powder is dissolved.

Then, add creamer and sugar according to taste. Mix the beverage until there is no sugar left.

Combine boba pearls, ice cubes, and melon drink mix in a cup.

Enjoy!
How to store honeydew milk tea?
Honeydew boba is best when prepared and consumed immediately after preparation. However, the honeydew slushie can be made in advance and stored in the refrigerator for two to three days. Then, you can prepare some boba and bubble tea whenever you desire a drink. If you still have leftover honeydew boba tea, do the following:
Complete boba
The optimal time to consume bubble tea is immediately after preparation. The longer tapioca pearls are allowed to sit, the less tender and chewy they become.

Fridge
Without boba, honeydew milk tea can be stored in the refrigerator for up to 48 hours.

Freezer
Using ice cube trays, we freeze any leftover milk tea. When making additional drinks, we use flavored ice to prevent the drink from becoming too dilute.

Prep In Advance
The syrup can be made in advance and stored in the refrigerator for two to three weeks. If you wish to use tea, steep it and refrigerate it in a glass jar.
FAQs
How to drink bubble tea?
When serving honeydew milk tea with boba, it is best to use a bubble tea-specific straw with a wide mouth. Glass bubble tea straws are our favorite among the many other options, such as bamboo and metal. After brewing your tea, you only need to add boba and drink it! You could choke on the tapioca pearls if you consume them too quickly.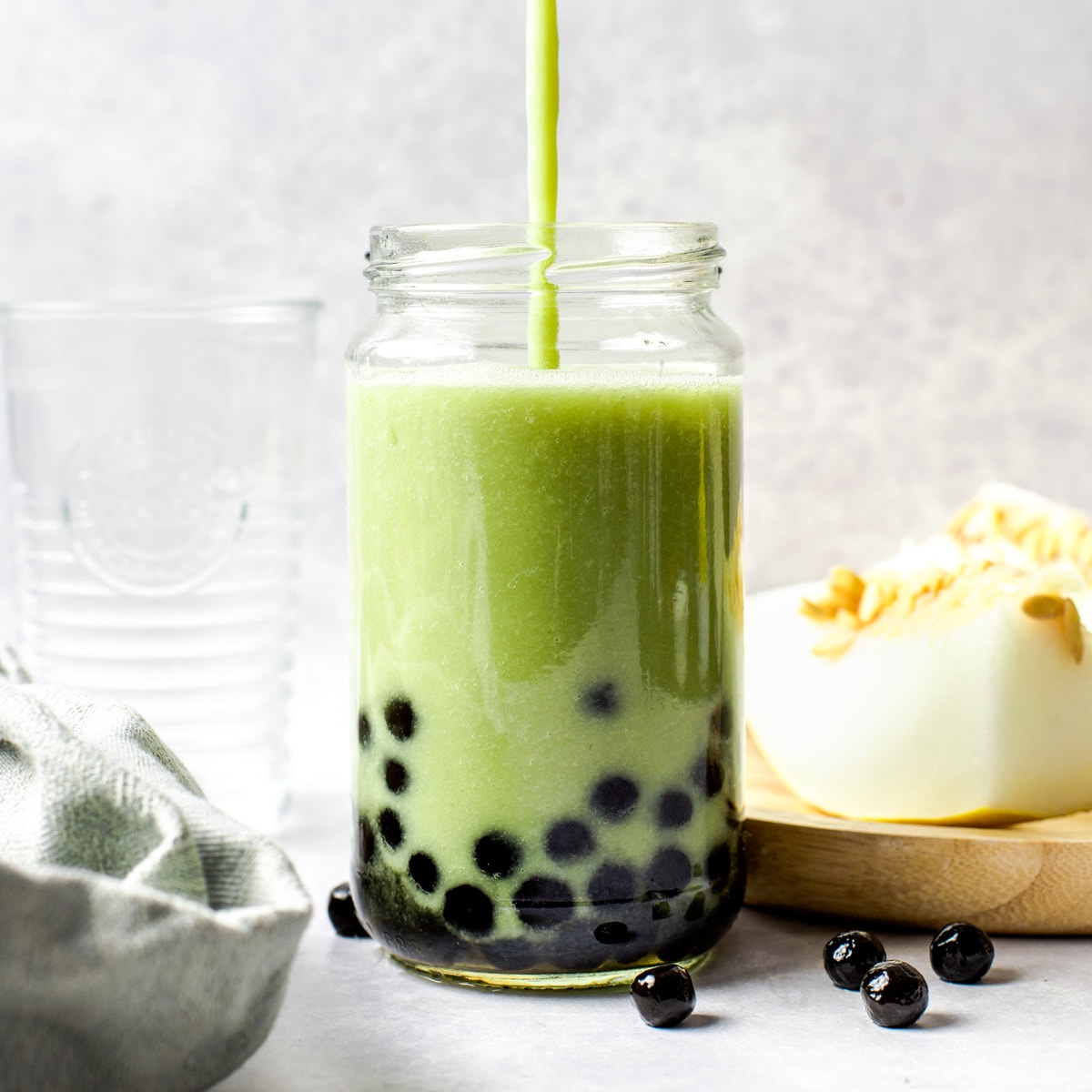 Is honeydew milk tea vegan
Milk tea is typically made with cow's milk, but bubble tea shops are beginning to offer more plant-based options. We prefer coconut, soy, or oat milk in this honeydew tea because the creaminess enhances the fruity notes. However, you may use any plant milk you desire.
Does honeydew milk tea have caffeine?
Yes, it does. Black tea and green tea contain caffeine, which will be used in this recipe. For a caffeine-free version, omit the tea or use decaf.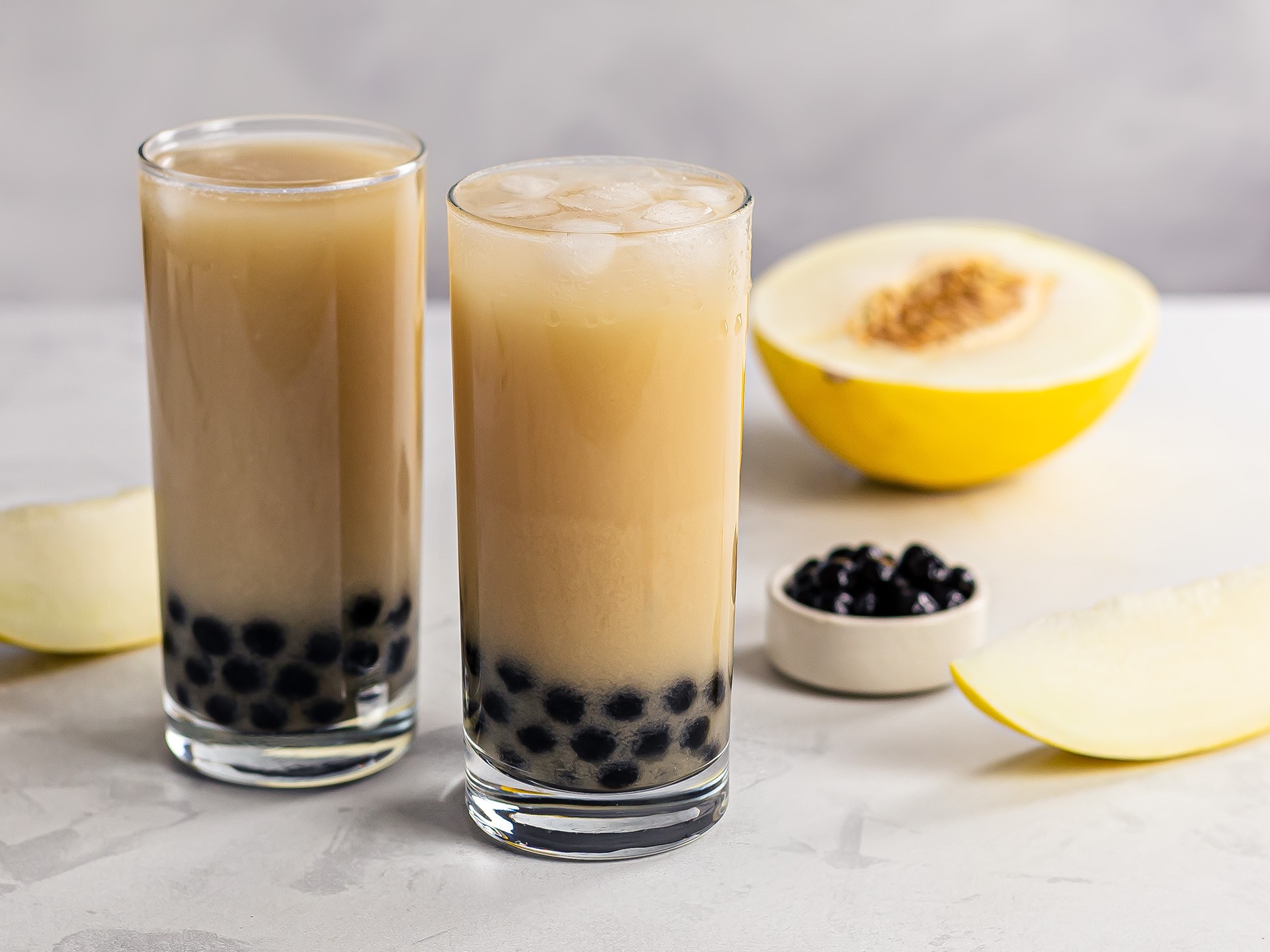 Experiences by Japan Crate : Boba Tea Experience Set
The honey melon is unquestionably the highlight of this drink. This fruit has a similar appearance to cantaloupe but is significantly sweeter and lighter. Occasionally referred to as honey melon. Its gorgeous, natural green hue and texture are just right, making it an excellent choice for a cold beverage. This boba drink tastes like honeydew milk or melon milk. In certain Asian nations, honeydew or melon milk is preferred.
Make your own honeydew milk tea at home with our Boba Tea Experience Set. This set includes tapioca pearls, Japanese sugar syrup, reusable straws, tea bags, reusable tumblers, and condensed milk.
TAKEAWAYS
Fresh honeydew can be utilized beyond fruit salad in a variety of ways. It has a refreshing, crisp taste that pairs well with honeydew melon bubble tea. Bubble or boba tea is a tea-based drink typically served cold with tapioca pearls and milk on the bottom. The honeydew melon distinguishes this fruity boba beverage it contains. Honeydew melon, also known as "honey melon," is a member of the same family as cantaloupe, but its flavor is sweeter. In addition to being juicy and fresh, it is also exceptionally tasty.
Visit our website now and learn more about us! We offer exclusive deals and free shipping worldwide.
Choosing a selection results in a full page refresh.
Press the space key then arrow keys to make a selection.
Your cart is currently empty.