Hinomaru Bento - The Patriotic Bento Box
Bento is a popular single-serving takeaway or home-packed meal in Japanese cuisine. A traditional bento box has rice, fish, or meat, plus one or more pickled or cooked vegetables. From mass-produced disposables to artisan lacquerware, containers are available. Although bento is readily available throughout Japan, including convenience stores, bento businesses, railway stations, and department stores, Japanese housewives still invest time and effort in producing a nicely prepared lunch box for their spouse, child, or themselves. Hinomaru bento is a bowl of plain white rice with an umeboshi in the center. The Japanese flag's white background inspired the name with a red circle in the center. Hinomaru bento is prepared entirely of rice and umeboshi to flavor the rice, with no additional side dishes.
What is a Bento Box?
Bento boxes have been a staple of Japanese society since the 13th century. There are many different ideas about what should be in these boxes. These boxes or trays include several compartments, each assigned to a different spread section. They come in a variety of sizes, including many that are suitable for school children. A traditional bento spread contains both carbohydrates and protein, as well as a variety of flavors and textures. It is made with rice or noodles and topped with meat, fish, eggs, and cooked or pickled vegetables. The contents of a bento box find a balance between nutrition and convenience.
What is Hinomaru Bento Box?
Hinomaru means "circle of the sun" in Japan and refers to the Japanese flag. Hinomaru bento is a typical bento box filled with steamed rice and a pickled umeboshi in the center. Because the red umeboshi or plum resembles the Japanese flag, this bento is known as the 'Hinomaru' bento. Japanese citizens were encouraged to live like minimalists during the world war ii, eating only rice and pickled plum. Its origins can be traced back to 1937, at a ladies' school in the Hiroshima prefecture, to a Japanese endeavor. While troops were fighting in China, students ate a patriotic dinner every Monday to display unity. By 1939, schools all around the country had adopted the idea. It later came to represent military mobilization and national togetherness.
For lunch, students brought Hinomaru Bento. When the food crisis intensified, underprivileged children couldn't afford white rice. They had to combine vegetables and grains with white rice to fill the bento box. These kids envied the white rice in the bento lunch boxes of children from wealthier families. It must have been a heartbreaking experience for these poor-family children. In addition to imitating the Japanese flag, the pickled plum is claimed to work as a rice preserve due to its citric acid content. Umeboshi, with a salinity of 20% or more, has an antiseptic effect. The current opinion is that the antibacterial properties of umeboshi are internal and do not protect the rice against spoilage.
What's inside a Hinomaru Bento Boxed Lunches?
Here's a list on how to make the hinomaru bento so you don't need to buy from a bento shops:
Cooked rice - Packed your cooked white rice while it is hot or warm. Just let it cool down in the container before adding other ingredients.

Pickled plum - This pickled plum is said that it acts as a rice preservative because of its citric acid.
Other side dishes you must try!
Lettuce

Salad

Halibut Saikyo Yaki

Simmered Daikon

Fish Fillets
Why is it called a bento box?
The term "bento" is claimed to have originated with Oda Nobunaga (1534-1582), a sixteenth-century military commander who fed the vast crowds at his castle by having food handed out to each individual. The term "bento" was coined to characterize the modest meals provided in this manner. Bento is a Japanese word that signifies lunch box. A quick look at Bento Box's history reveals that they are quite popular in Japan and have become popular worldwide in the last decade.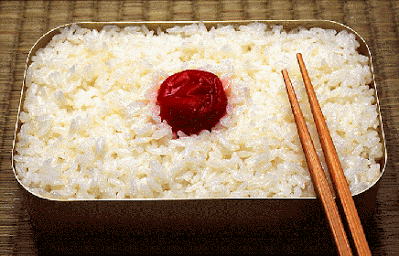 Experiences by Japan Crate : Bento Experience Set
The Japanese bento is becoming more and more well-liked outside of Japan as a way to provide oneself, friends, or family with a colorful, wholesome, and well-balanced dinner. The Bento box set is good for the environment because it recycles containers. Presenting tactile meals to picky eaters or kids with food aversions is always challenging, but not with a bento box. Prepare to relive those lovely school days in Japan by stylizing your own bento box and become acquainted with how lunch boxes have been produced consistently, with intricacy and love, for decades.
With our Bento Experience Set, you may create your own bento boxes. Since it is your first time making your own bento box with our Bento Experience Set, you don't need to be worry and hesitate about the process. It will allow you to easily make a bento. The Bento Experience Set comes with a bento box (two-tiered) and a carry bag, seaweed art, food dividers, food picks, utensil sets, and sauce containers.
Takeaways
Bento boxes are a unique and enjoyable method to pack and serve lunch. And, even though they are lunch boxes with multiple compartments, it's simple to see why they've become so popular. For starters, they enable you to pack healthful and well-balanced lunches. Furthermore, having discrete compartments eliminates the need to segregate lunch ingredients into separate bags or containers.
Add to your cart and order yours now because Experiences by Japan Crate will let you order with no subscription needed, and there's free shipping worldwide, wherever you are in the world. You may visit our website if you want to know more about us.
Choosing a selection results in a full page refresh.
Press the space key then arrow keys to make a selection.
Your cart is currently empty.