Here's Your Ultimate Guide to Traditional Bento-style Boxes
Many Japanese people prefer to eat their meals in a bento box. Bento boxes in Japan have grown to be as globally known as sushi and ramen as a healthy, well-balanced, and aesthetically pleasing lunch on the run. Bento boxes consist of delicious, fresh, and nutritious meals with cooked rice, meat as a main dish, colorful vegetables, and some healthy side dishes. Japanese bento boxes are more than just a prepared lunch in a box. It's about nutrition, flavor, texture, and presentation.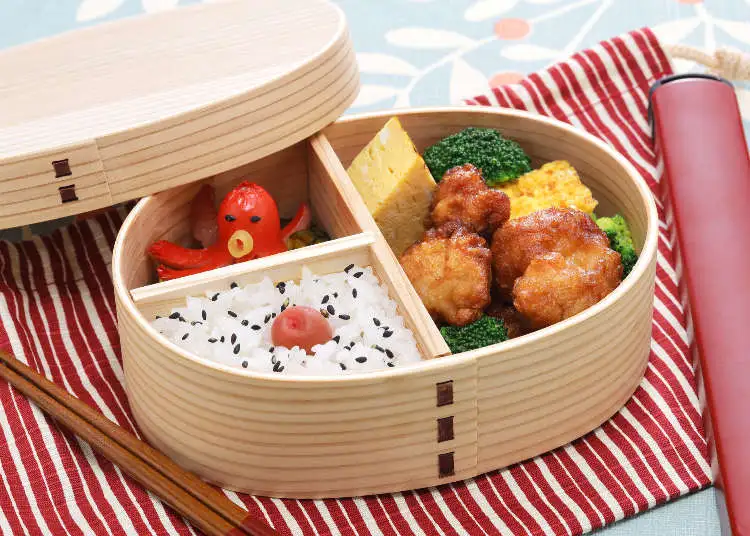 As a popular Japanese meal, bento boxes have gained popularity outside of Japan due to their delicious and aesthetically pleasing nature. While there are many different types of bento boxes, the traditional style remains one of the most popular. This ultimate guide will explore the history, ingredients, and techniques used to create the perfect traditional bento box, along with tips and tricks for packing and serving. Whether you are a seasoned bento box enthusiast or a beginner looking to try something new, this guide will provide you with all the information you need to create a delicious and authentic Japanese bento box.
What is a Bento box?
Bento box lunches have been in Japanese culinary history since the 5th century. The multi-compartment farmers' seed box inspired the basic compartmental style of bento lunches. Originally made of woven basket material or wooden lacquered boxes, the style took on an extravagant twist with the introduction of aluminum bento boxes in 1912. And by the 1980s, the bento box had gained popularity in Western culture due to people's growing need for convenient food that could be eaten without making a mess. The character bento was then introduced in the 1990s. Because of growing concerns about environmental sustainability and human health, bento-style lunchboxes are gaining appeal as a waste-free lunch choice.
Different styles of Japanese bento boxes
Kyaraben bentos are renowned for their creativity, style, and originality in the kitchen. Kyaraben bentos were originally developed to encourage children to eat larger meals, particularly vegetables. Kyaraben often designed with hello kitty as a picture bento or character bento was developed to stimulate kids' appetites and make vegetables and other Japanese food more enticing. Nowadays, national competitions are held for the most visually appealing Japanese bento box because Kyaraben has grown so popular. Kyaraben bento boxes emphasize the idea of "kawaii," or cuteness.
The new Japanese cultural trend, "Kyaraben," fuses traditional and contemporary art and cuisine.
Typically, it consists of tuna soboro, sliced cheese, bonito flakes, carrots, and freshly cooked rice.
Tamagoyaki is a Japanese word that translates to "grilled egg." This traditional dish is made by stacking thin layers of potatoes on a frying pan, folding them into a log shape, and then cutting the log into pillows. Because it is seasoned with mirin, sugar, and dashi, the egg combination has a sweet flavor. The egg mixture is made with eggs, soy sauce, sugar, and other ingredients to create an umami flavor with hints of sweetness and salt. Seaweed, green onions, shrimp, and cheese can all be used as fillings or seasonings. It's typically made in a rectangular omelet pan called a makiyakinabe or tamagoyakiki.
Also known as the "loving wives bento," Aisai bento is a Japanese style bento a woman prepares for her husband or children to eat at work or school. It is used to show affection. It is a way for a wife to show love for her significant other thru a delicious, nutritious, and unique lunch box. Traditionally, the woman of the house prepares these special lunch boxes for her husband. Similarly, during hanami season, young girls in relationships make a personalized bento for their partners.
The Japanese word 'Ekiben' is a combination of the kanji characters for 'train station' and 'boxed meal,' i.e.,'station-bento.' Its name is what it is, a train station bento/packed lunch sold at train stations to eat on your ride. Travelers would often carry their own waist bento(several onigiris wrapped with bamboo leaves or in woven bamboo boxes) as their food on the go so they can keep their food safe.
Ekiben is a high-quality great bento meal that is freshly made and delicious.
This two-section bento box is the most common type of bento box. This ready-made and tightly packed large bento is frequently found in convenience stores. The lunch box has 2 sections containing side dishes with rice dishes and small side dishes on the other side such as fried fish cakes. This bento was originally served to actors and audience members between acts at Kabuki theaters.
Hinomaru translates into "circle of the sun" in Japan, and the Hinomaru bento box resembles the Japanese flag. Typically a bento box filled with steamed rice and pickled umeboshi in the center.
These Japanese bentos origins can be traced as far back as 1937, as the Japanese were urged to live as minimalists, eating only rice and pickled plum during World War II. By 1939, schools across the country had embraced the concept. Packing bento lunches later came to symbolize military mobilization and national unity. When the food crisis became worse, poor children were unable to afford white rice. They had to combine vegetables and grains with white rice to fill a bento box. Because of its citric acid content, the pickled plum is said to work as a rice preserve in addition to imitating the Japanese flag.
Umeboshi has an antiseptic effect when salinity is 20% or higher.
According to current thinking, the antibacterial properties of umeboshi are internal and do not protect the rice from spoilage.
Quick Guide about Agemono: Deep Fried Japanese Food
Aside from ramen and sushi, there's one underrated type of Japanese dish that's often disregarded but is surely a favorite by many. Agemono is the Japanese term for deep-fried food such as chicken katsu, shrimp rolls, tempura, karaage, and ebi furai in Japanese cuisine and is often found as a side dish in a typical bento box. These deep fried food are usually coated with flour or batter to achieve the typical crisp.
Tempura is one of the most well-known agemono. It is a battered, deep-fried fish(sometimes vegetables) in a fluffy, light batter. There are small amounts of cold water used to make the tempura maintain its texture. Moreover, you can easily distinguish the difference between tempura batter and ordinary batter. Tempura batter doesn't have bread crumbs and uses less oil, but it can make a delicate, crispy tempura.

Tonkatsu is deep-fried meat. Topped with tonkatsu sauce, it often comes with shredded cabbage on top of it. This is usually served in typical eateries with frequent hungry crowds. Tonkatsu is also served along with other dishes such as katsukar and katsudon.

Karaage is either fried chicken, octopus, fish, or Japanese meats. Often comes with a soy sauce, and seasonings are added differently to savor that Japanese flavor. The batter usually includes wheat flour, garlic, ginger, and potato starch. Seasonings are also added to the light oil for more flavorings.

Korokke is a Japanese croquette that can be comparable to a Portuguese croquette. It is a dish made of mashed potatoes or white sauce and a battered mixture of diced meat, fish, or vegetables. Cream korokke is the name of the variation that uses white sauce.
What sets Bento Boxes apart?
Japanese bento lunch is a healthy packed meal that can be in a small bag. Making bento is also seen as a good way of meal prep as it often comes in disposable boxes, a thermal lunch jar, silicone cups for the sauces, and is environmentally friendly. We typically see it nowadays in Japanese restaurants or train stations. These bento lunch boxes' origin differentiates from researchers to researchers, an example is the makunouchi bento was a bento box that was served for performers during the Edo era as a quick Japanese meal to eat between acts. It was a typical and standard type of bento, although people did not always call it "makunouchi-bento" and just called it bento or obento, a packed lunch. As time goes by, bento boxes continued to grow in popularity. With its convenience factor, it can be eaten on the go. The Japanese bento culture has been a great help in keeping the Japanese eating healthy foods in a little box. Most bento can be eaten cold, consisting of a dried meal or dry foods, it can also contain a Japanese curry, pickled vegetables, potato salad, cucumber slices, cherry tomatoes, and brown rice or rice balls.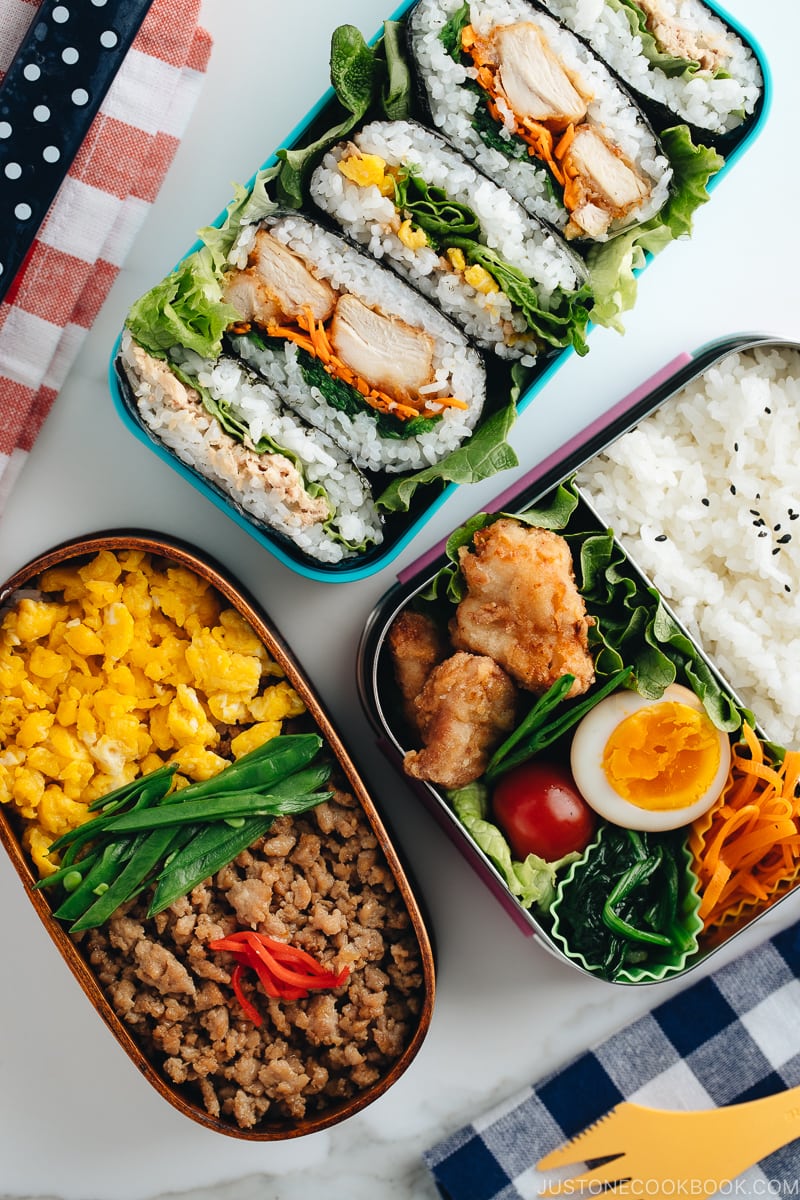 Benefits of Bento boxes 
Traditionally made with wooden lacquered boxes, bento's built-in compartments separate varieties of foods inside to avoid spillage and single-use plastics, which encourages a more reusable and environment-friendly lifestyle.
Customizable and Perfect for Kids
Serving food is challenging for parents of picky eaters or kids with food allergies. With Bento boxes, parents can customize their bento boxes to make their lunchtime more enjoyable, and picky eaters have control of what they are eating due to their variety of foods.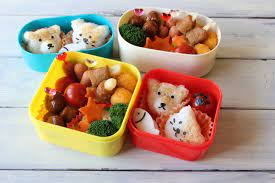 Well-balanced and Nutritious Meals
Japanese bento boxes encourage a balanced, well-balanced, and nutritious diet. Bentos boxes have several portioned compartments to ensure you fill them with enough food. 
Bentos traditionally consists of rice, fish, meat, and pickled, raw, or cooked vegetables. Just add fruit as dessert, and you have a meal that tastes good but is also advised by doctors at the same time.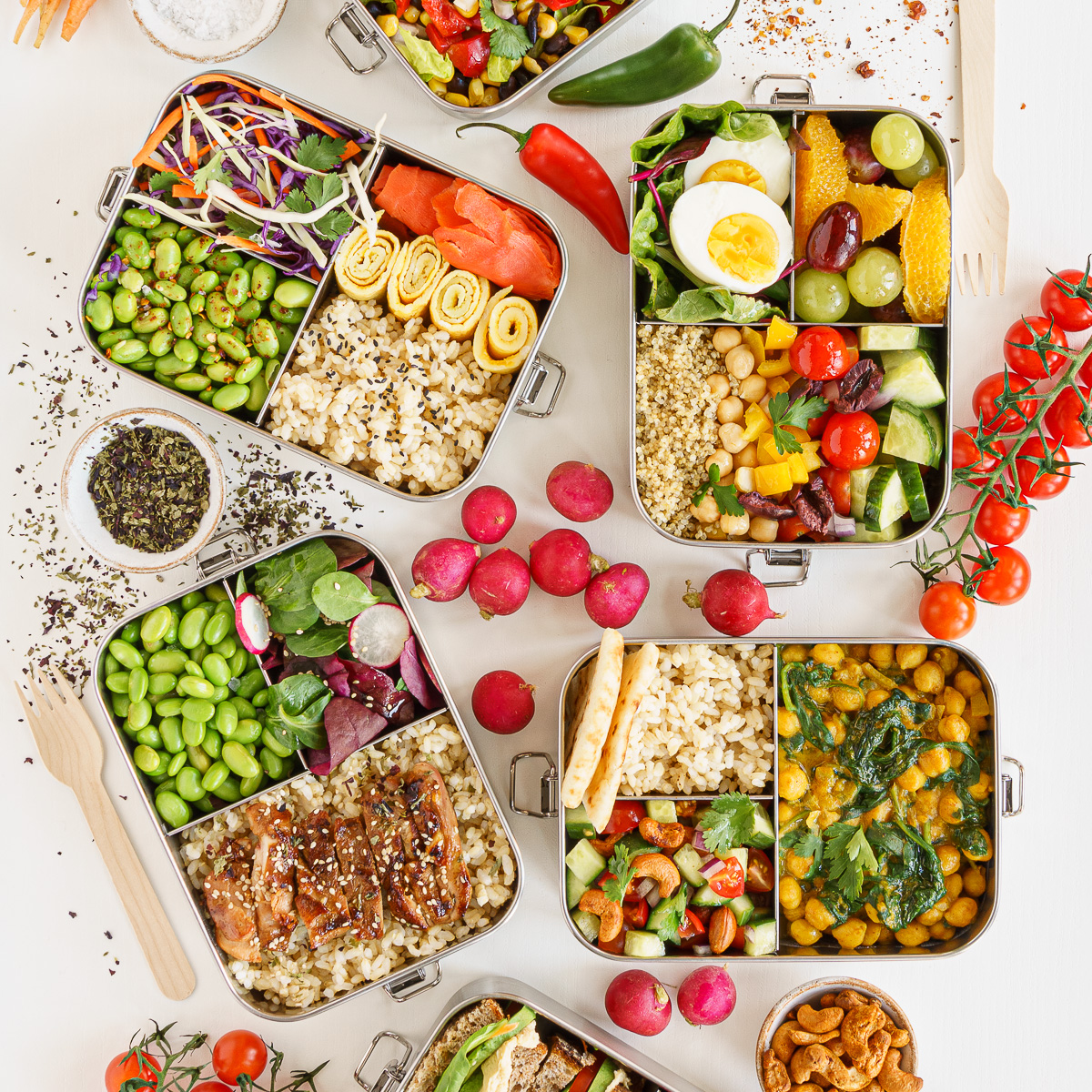 Bento boxes are also a great help for people with specific diet goals. It may be good for weight loss, but some people need specific numbers of nutrients for their bodies, such as athletes. With bento boxes, people who prepare their food way ahead of time(in a week's advance in some cases) are perfect as you can put them in the freezer and take it before going to work or school. 
Bento boxes are easy to carry, making them ideal for work, school, or outdoor activities.
Rice in a Bento box
Asia is where 90% of the world's rice is produced. Asians eat a fair amount of rice because it has been grown there for almost 10,000 years and has been a stable food in Asian cuisine ever since. It has no extraordinary characteristics and is a perfect balance/neutralizer for many dishes. When you think of foods you can eat repetitively and consistently, few foods come into mind as many foods have flavors that make you love them yet make them not a kind of food you can eat daily.
Asians eat rice, some daily. It's never a part of the dish but supports it. Its plain and neutral flavor balances out any strong flavors in the main dish. Because of this, it complements foods with strong flavors or savory foods so well. It serves as a stabilizer. You nibble on some spicy or salty food. Then you put some rice in your mouth just after or before swallowing. Everything tastes thanks to this ideal neutralizer.
Nowadays, a lot of people try a lot of new things. It has been paired with other foods more than ever. Some even try adding some dry seasoning to make it taste good according to their preferred taste.
Food Spoilage
Food spoilage happens when microorganisms grow into your food. This is why separating hot and cold foods is the best practice when packing your meal. Here are some great tips to avoid food spoilage:
Keep hot foods warm. A thermal lunch jar may be useful when consuming liquids like soup, stew, or curries.  

Keep cold perishable foods cold. Foods like meat, fish, and dairy foods are perishable. An ice pack can be a great help when packing this.

 Keep your containers clean. Microorganisms such as yeasts and molds will have difficulty growing in cleaner environments. When packing, ensure your hands, the containers, the bento box, and the utensils are all clean. 

With bento traditionally being eaten on the go, adding some hand wipes and hand sanitizers would be best to help you clean your hands before consuming it. 
Bento Experience Set by Experiences! by Japan Crates
The good news is that you can now meal prep your own bento box lunch with Bento Experience Set by Japan Crate. If you enjoy Japanese culture and would like to try a Japanese bento box as your midday meal, this is perfect for you! With the tools and guides included in the set, you can unleash your inner creativity and make your version of the world's bento boxes without going to convenience stores. Furthermore, you can mix and match the food based on what you want to include, such as cooked rice, cooked vegetables, salad and fruits, and many other options for a packed meal.
Whatever popular style you prefer, such as those found in Asian countries or the Western world, these Japanese bento lunches will allow you to enjoy bento culture in the same way that Japanese people do. Fortunately, there are experiences like this that allow you to experiment with them in the comfort of your home. So wherever you are right now, it's now accessible to DIY your own bento. The set includes a bento box in two-tiered with a carry bag, seaweed art, food dividers, food picks, a utensil set, and a sauce container.
Takeaways
Preparing a heartwarming meal like Japanese bento is where you can show love and affection. May it be for yourself or for people you love, the art of prepping up everything makes bento worth every bite. In this world where instant meals are everywhere, it's still a different feeling when you can fulfill your hunger with a meal that is made with such care and love. Hence, it's no wonder that the existence of Japanese traditional bento is still appreciated even today. Locals or not, it's hard not to fall in love with the idea of preparing these Japanese meals.
The good thing about bentos is that there are lots that you can do. There are multiple options of meals to include in a simple packed lunch, making it more exciting to prepare. And to those people who are fond of exploring Japanese cuisines, as a traditional Japanese meal, bento boxes reflect a deep respect for nature, the seasons, and balance within the meal. By understanding the cultural background of bento boxes, you will gain a deeper appreciation for the artistry and symbolism that goes into their preparation.
Choosing a selection results in a full page refresh.
Press the space key then arrow keys to make a selection.
Your cart is currently empty.