Experience Making Your Own Boba Tea!
Tea fever has come and is spreading. If you've never had milk tea, you have no idea what you're missing. It would be best if you didn't meddle with milk tea and tea. In addition, regardless of the season, everyone may enjoy boba tea since it is the ideal cooling beverage. Bubble tea is more than simply a beverage, it is an experience that unites people from all different countries and backgrounds. But you might be curious about how to make one, especially with pearls. By the time this article is done, you will be fully informed about boba tea and you will learn how to create it on your own.
What is Boba Tea?
Bubble tea is a Taiwanese drink that combines tea (black or green tea), milk, fruit, and fruit juices, then adds delectable boba pearls (from tapioca starch), and aggressive shakes. However, numerous new boba flavors have emerged in bubble tea shops around the world over the years. Other sorts of bubble tea are fruit-based, do not contain milk, or have a different type of boba topping. It can be served both hot and cold. Bubble tea is currently popular in the United Kingdom, but it has been a hot (or cold!) favorite in nations such as China since the 1980s. Bubble tea, pearl milk tea, pearl tea, bubble milk tea, boba, boba fruit tea, and tapioca tea are terms you've heard. However, there is no need to bother because they all indicate the same thing.
The Origin of Boba/ Bubble Tea
Boba tea is not your ordinary iced tea. The origins of boba, which emerged Taiwan in the 1980s, are controversial. Given the widespread tradition of drinking tea in SouthEast Asia, milk tea was already well-known in Taiwan. At that time, tapioca balls and shaved ice were both common sweets. Someone at some point came up with the idea to blend three well-liked ingredients into one drink: tapioca balls on the bottom, then a layer of shaved ice, and tea to make up the remainder.
As boba became more popular throughout Taiwan, it changed over time. Snack shop owners began offering fruit boba, replacing actual fruit with powders and syrups. In addition to tapioca balls, other topping options included grass jelly, almond jelly, egg pudding... Even in traditional ones, non-dairy creamer was substituted for milk in the milk tea, and as a result, the beverage gained a reputation for having an exceptionally sweet, creamy flavor.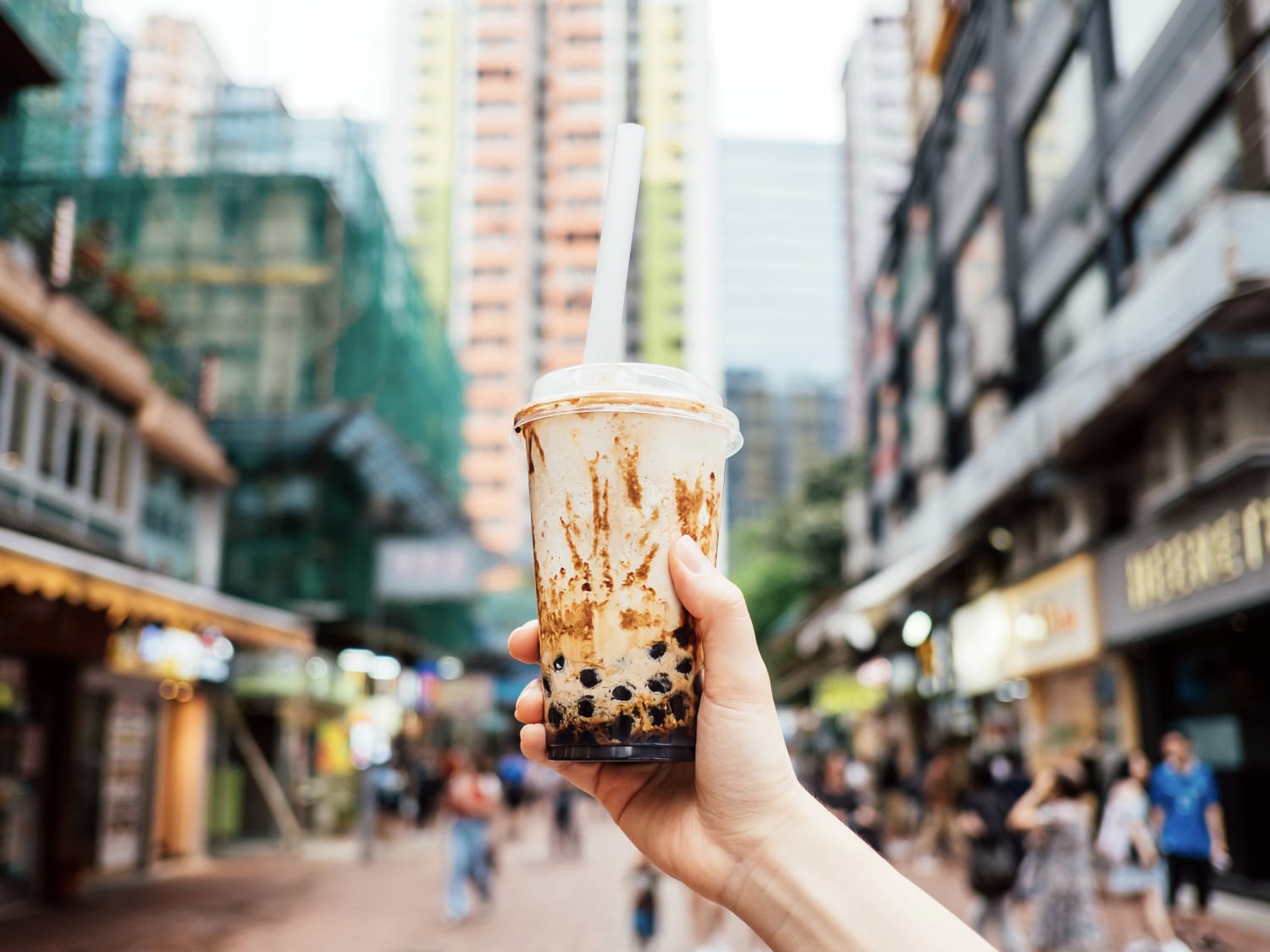 How Do You Prepare Boba Tea?
To make simple syrup, combine equal parts water and sugar just like in Boba shops. Tapioca pearls should be boiled according to package specifications to make chewy pearls. Tea must be brewed to the proper consistency. Pour the milk, ice, tea and syrup into a glass. Then add the boba and drink bubble tea that you made! This is an idea for a recipe for tapioca pearls. We encourage you to follow the advice, then make changes as needed to meet your specific preferences and needs (for example, add brown sugar, fructose, or honey to sweeten the pearls). We wish you a fantastic and joyful vacation.
Popular Boba Tea Flavors
This article may help if this is your first time-consuming bubble tea, and you must decide which beverage to pick from the wide range available. If you're unfamiliar with bubble tea, you might enjoy reading the most asked questions about it. This article can also be helpful for people who have already tried bubble tea but are still curious what other flavors they should try.
The Classic Bubble Tea
The original flavor. Black tea, fresh milk, sugar, and naturally chewy black tapioca pearls are the main ingredients in traditional bubble tea. Its smooth tea flavor and rich and creamy flavor will surely make you grin.
Lychee Fruit Juice Tea
If you like a more fruity, energetic tea, try lychee tea. This cocktail is delicious and a summertime favorite. Lychee's lightness makes it less sweet and more energizing. Despite not being one of the most popular flavors in the UK, lychee is a delightful fruit that works well in a beverage.
Experiences by Japan Crate: Boba Tea Set
The popularity of Boba milk tea is now obvious on a worldwide platform. The beverage known as bubble tea is more than that. People from diverse nations and backgrounds can share this experience. In addition to regular tea, there are now a variety of tea flavors available, including white tapioca balls, simply boba tea, typically served tea, black tea, brown sugar syrup tea, invented boba tea and many more. Even though it appears difficult to create, it's simple if you have a bubble tea kit at home! We've covered you if you've never tried making boba tea as every bubble tea shop does.
Level up your bubble tea experience by going on a trip. You don't need to go to other countries or places because we have you covered with our Boba Tea Experience Set, which will let you experience making bubble tea at home. All you need to get your desired result is some chewy tapioca pearls/ boba pearls, almond milk or milk of your choice, less ice cubes, and popular bubble tea toppings, and that's it! Because our DIY bubble tea kits are easy to use, that's why you don't have to worry about making mistakes. Consider making your bubble tea recipe with popping pearls and ice cubes for a quick refresher. The Boba Tea set includes tea bags, tapioca pearls, Japanese sugar syrup, sweetened condensed milk, a reusable fat straw, and a reusable tumbler.
Takeaways
Instead of making or buying boba tea, you may produce one quickly and easily. The advantage of experience sets is that they allow you to maximize your time without jeopardizing your ability to complete things independently. Whether you live in Japan or are hundreds of miles away, learning about Japanese culture through experience or DIY kits like the Boba Tea set is a fantastic way to do so.
Experiences by Japan Crate offers deals and free shipping worldwide; no subscription is needed when you order. If you want to know more about the product, visit the link of our website and get yours now!
Choosing a selection results in a full page refresh.
Press the space key then arrow keys to make a selection.
Your cart is currently empty.