EKIBEN : TAIWAN RAILWAY BENTO
Ekiben, sometimes known as Eki bento, combines two of Japan's most famous characteristics: delicious meals and excellent trains. Outside of Taipei, you'll need to take the train practically anywhere in Taiwan. Taiwan has a large and efficient rail network that serves tourists and commuters, from those traveling to the south's beaches or rice-field towns to those simply having to get into the capital for business. Because certain destinations might take up to eight hours to reach and few trains offer dining cars, many travelers prefer the train bento.
Unlike in most other countries, where train food is almost always bad, the special meals provided at Japanese railway stops are so good that they've become a delicacy in their own right.
What is EKIBEN?
The Japanese word 'Ekiben,' pronounced 'air key ben,' is a combination of the kanji characters for 'train station' and 'boxed meal,' i.e.,'station-bento.' Its name aptly describes what it is: a lunch box sold at train stations for eating while on the train. Ekiben, on the other hand, is so much more. Ekiben is delicious, fresh, high-quality boxed dinners often made with locally produced products that reflect the region and are marketed in various styles, ranging from simple, delectable on-the-go meals to sophisticated limited editions and regional delicacies. They also change with the seasons and are available in various containers, from simple and traditional-looking wooden boxes and trays to trendy shinkansen-shaped boxes.
Ekiben is a special bento sold at train stations intended to be consumed on long train travels while exhibiting the cuisine of the region from which they are produced. Taiwan Railway Bento is a tribute to Taiwan's well-known Bento restaurants. They provide a range of these adorable rice boxes and other Taiwanese specialties. The lovely rice box was made from wooden crates. Ekiben containers are available in plastic, wood, and ceramic.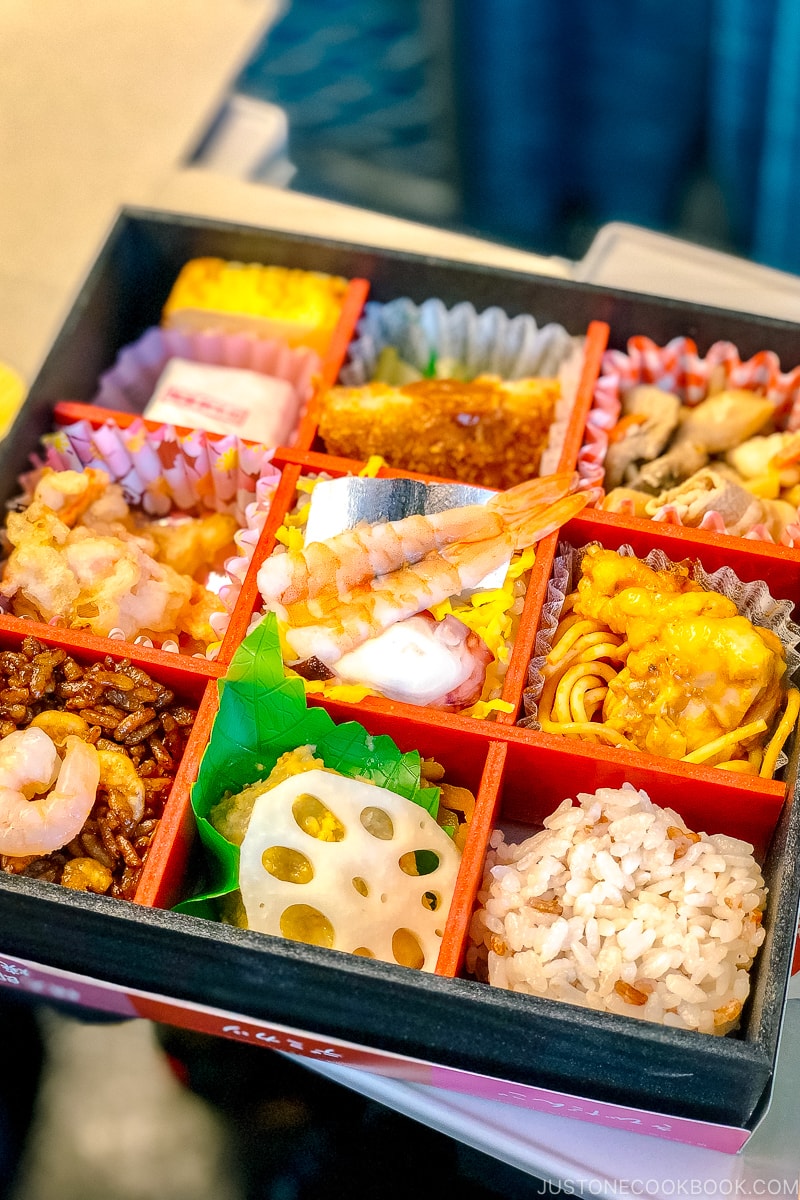 History of EKIBEN
The history of Ekiben is fascinating, and it is, as one might expect, closely tied to the creation of Japan's rail network. Ekiben merchants traditionally stood on the train platform with their boxed dinners slung around their necks on a wooden tray. They are currently offered in supermarkets and kiosks, with the occasional traditional vendor remaining.
There are numerous myths about the origins of ekiben and competing claims about who was the first to come up with the concept, but one persistent account claims that the station lunch box' was introduced in 1885 when the JR line between Omiya station and Utsunomiya station in Saitama prefecture opened.
The original ekiben was simple - rice balls (onigiri) wrapped in bamboo leaves - but expensive. Because train travel was often a privilege of the upper classes at the time, and white rice was also expensive, ekiben was initially more of a luxury. In 1945, ekiben began to evolve with further regional variants and peculiarities. It was also less expensive and more convenient for frequent travelers.
Interestingly, as ekiben got more popular, its quality and complexity improved, with a profusion of fresh, locally-sourced foods from each region and increasingly sophisticated 'lunch box' containers ranging from shinkansen bullet trains to Hello Kitty! Since then, ekiben has become an essential part of Japanese culture, so much so that there are ekiben connoisseurs and collectors akin to trainspotters in the West. The first Formosa Railroad Bento Festival was scheduled for July 17-20, 2015.
Taiwanese Train Bento
This dish is good for 1-3 person. Here's the ingredients and step-by-step procedure you'll need to make your personalized ekiben bento at home.
Ingredients
Here are the suggested ingredients for this recipe, the meat and side dishes are optional you can choose any any meat and side dish of your choice.
For the porkchop MEAT:
2 boneless pork chops or chicken meat

sweet potato starch or corn starch

1 and 1/2 tbsp minced garlic

1 and 1/4 soy sauce

3/4 tbsp rice wine

1 tbsp water

1/4 tsp white pepper

1/4 tsp Chinese five spice
FOR THE BRAISED EGGS:
2 peeled hard boiled eggs

1 and 1/2 cup of water

1 star amise

1/2 cinnamon stick

1 tbsp regular soy sauce

1 tbsp dark soy sauce

2 tbsp brown sugar
OTHER INGREDIENTS:
2 portion of cooked white rice

side dish of your choice
Procedure
Here's the step-by-step procedure on how to make your own ekiben bento at home:
Cover a solid cutting board or countertop with plastic wrap. Place another piece of plastic wrap on top of the pork chops. Using a mallet or hammer, pound the pork chops until they are thin and flat.

In a dish or plastic bag, combine the garlic, star anise, pepper, five-spice, water, soy sauce, and rice wine. Then, add the flattened pork chops and coat both sides. Allow at least 2 hours, ideally overnight, to marinate.

Meanwhile, make the braised eggs. Combine the water, soy sauce, sugar, star anise, and cinnamon stick in a saucepan. Allow the mixture to boil for at least 10 minutes to ensure the sugar is completely dissolved. Allow the eggs to boil slowly for 5 minutes after adding them. Cover the pot, turn off the heat, and let aside for at least an hour to allow the eggs to soak. The deeper the color and flavor, the longer they soak.

When ready to make your lunchboxes, heat a large frying pan and coat it with oil. Rub the starch on both sides of each chop before adding them to the pan two at a time. Cook for three minutes on one side and one to two minutes on the other, chopping into one chop to check for doneness.

Following that, assemble the bento. Fill four lunchboxes (or plates) halfway with cooked white rice. In each one, place a pork chop and a half-egg. Wrap the garnishes around the chop and egg. Bentos can be eaten right away or after a few hours like for at least two hours or more.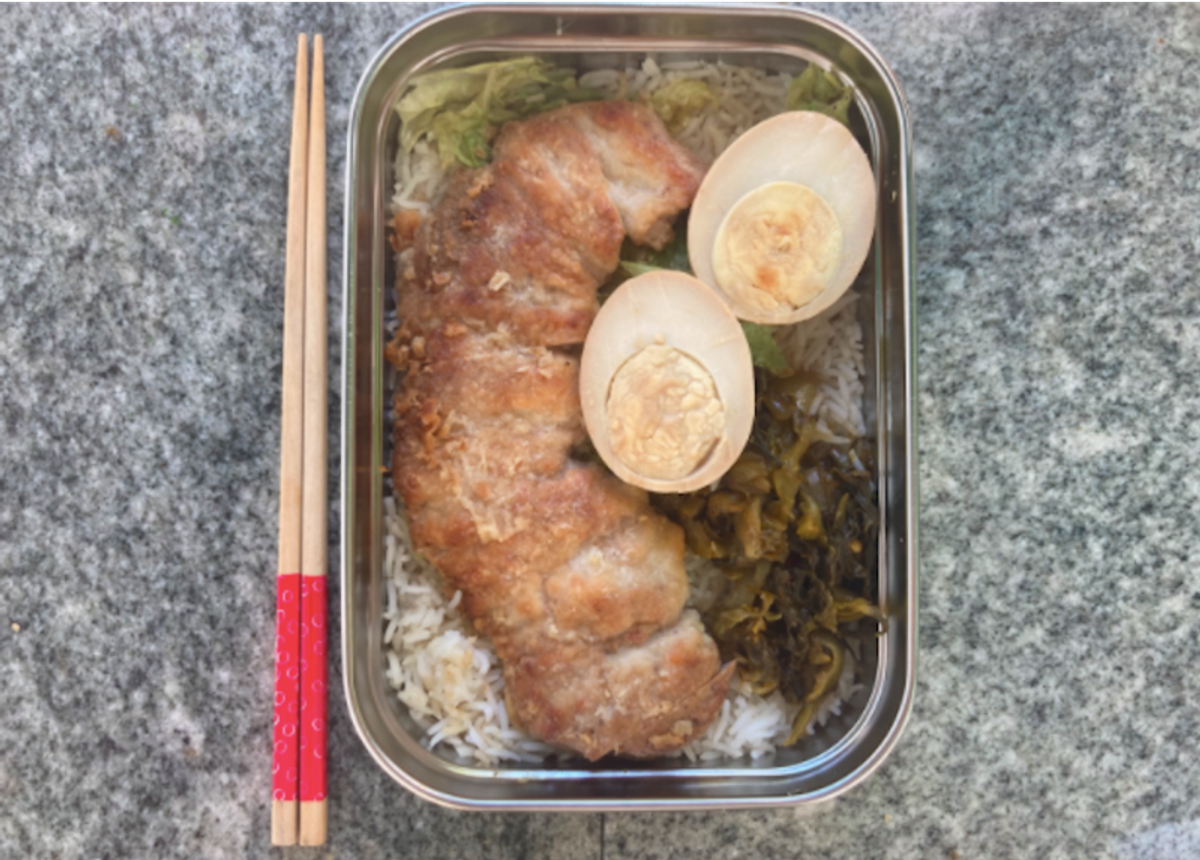 EXPERIENCES BY JAPAN CRATE : BENTO EXPERIENCE SET
Bento boxes are popular not only for their nutritious content but also for their aesthetic appeal. Bento boxes can be extremely elaborate, but they are often quite nutritious due to a combination of vegetables and lean protein. It's a two-section box like those found in train stations or Japanese restaurants. On one side, rice will be provided, with a colorful array of side dishes on the other. It's an excellent method for overseas visitors to sample the local cuisine without traveling to the region. Ekiben is also a popular choice for those who want to spend less money but want to explore different food cultures.
Start making your personalized bento boxes at home! With our Bento Experience Set, you can easily make one. Just following the very simple and quick instructions, you now have your own bento at home. The set includes a two-tiered bento box, a carry bag, seaweed art, food dividers, food picks, a utensil set, and a sauce container.
TAKEAWAYS
Because early schools did not serve lunch, the bento became popular among students and teachers throughout the Meiji Period (1868-1912). Around this time, bento boxes began to be sold in train stations. During the Showa Period, ekiben's popularity skyrocketed (1926-1989). At the time, Ekiben were typically sold in little shops on train platforms.
Purchase your own Bento Experience Set and make your bento at home. Japan Crate offers a lot of exclusive deals and promos. Take note that purchasing any item at Japan Crate's website is free, and no subscription is needed. Get yours now and enjoy the free shipping promo worldwide! To know more about us, visit our website now.
Choosing a selection results in a full page refresh.
Press the space key then arrow keys to make a selection.
Your cart is currently empty.